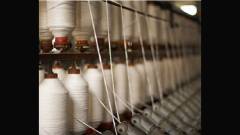 The country's textile sector has earned foreign currency of $128,203.71 million in the six fiscal years since 2009-10.
Textile and Jute Minister Md Emaz Uddin Pramanik placed the statistics in Parliament yesterday in reply to a question.
According to the statistics, the textile sector earned foreign currency of $26,509.77m in FY2014-15, $25,508.77m in FY2013-14, $22,556.73m in FY2012-13, $21,496.57m in FY2011-12, $19,002.78m in FY2010-11 and $13,129.09m in FY2009-10.
Emaz Uddin said the government has set a target to earn foreign currency of $28,447.57m in the current fiscal year of 2015-16.
In reply to another question, the minister said Bangladesh exported a total of 84.37 lakh bales (1 bale = 181kg) in the last five fiscal years, from 2010-11 to 2014-15.
Yet the amount of exported jute was 111.08 lakh bales from 2005-06 to 2009-10, he noted.
Bangladesh has exported jute to Pakistan, China, India, Brazil, Ivory Coast, Vietnam, Korea, Russia, Djibouti, Nepal, Cuba, Germany, UK, USA, El Salvador, Philippines, Tunisia, Belgium, Netherlands, Ethiopia, Japan, Thailand, Spain, Iran, South Africa, Turkey and Italy, the minister said.
Source: Dhaka Tribune