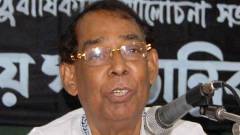 Senior Awami League leader Suranjit Sengupta has advised Awami League (AL) leaders to organise the party besides doing development works for the country.
"To drive a country with some sincere ministers is not everything for a party, another significant role of the group is to organise their activists for the welfare of the nation," he said this while speaking as the chief guest at a discussion on 'Present Politics'.
Bangabandhu Academy (BA) organised the discussion where AL leader Mozaffar Hossain Poltu and AL Presidium Member Satish Chandra Roy also spoke among others with BA Secretary General Humayun Kabir Miji in the chair.
Suranjit said: "Government is doing a lot of development works and it is the duty of a party to outstretch the developments across the country."
He said BNP has committed a mistake in politics so they have to wait with patience.
"Patience is very important in politics … changes will come only by the constitution, so you (BNP leaders) have to wait patiently for the next election," he advised the BNP leaders.
The senior leader also said the government would bring the money stashed with different banks abroad.
Source: Dhaka Tribune