By MarEx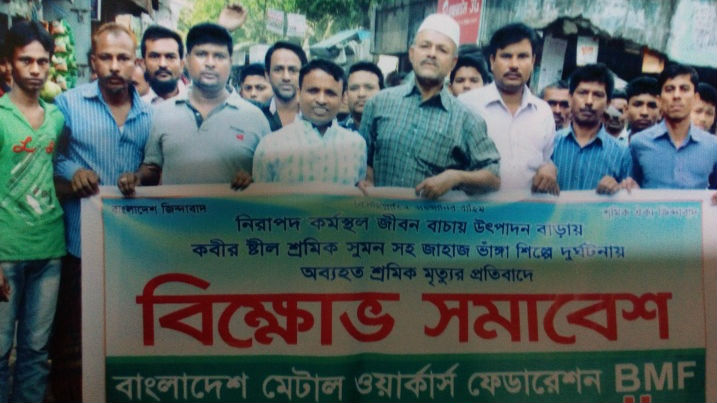 Seven people, including a 16-year-old boy, were injured after guards at a shipbreaking company in Bangladesh opened fire on people protesting against the death of a worker.
Mohammad Sumon was killed instantly when a truck transporting scrap steel from the Kabir Steel yard in Chittagong ran him over on the morning on March 28.
On hearing about the accident, locals, co-workers and Sumon's family members gathered at the scene. According to reports, factory authorities at Kabir Steel took the body inside and refused to hand it over to his relatives. With grief and anger they started to protest, blocking the Dhaka Chittagong highway in front of the factory for about two hours demanding punishment to the guilty.
Factory guards, reportedly acting under orders from Kabir Steel, then opened fire on the demonstrators, injuring seven people identified as: Nurun Nabi (20), Delwar (24), Usman (25), Munna (20), Musammat Shahnaz (25), Shabuddin (18) and Samir Ahad (16).
IndustriALL Global Union has written to Prime Minister of Bangladesh to "condemn in the strongest terms" the shootings.
"We demand an investigation into why such brutal force was used against the protestors and the guilty must be punished," said IndustriALL's general secretary, Jyrki Raina. "We can no longer afford to continue the business as usual attitude as workers risk their lives every day at Bangladesh's shipbreaking yards.
"IndustriALL calls upon the government of Bangladesh to ensure that accident victims are provided appropriate compensation and to punish employers who operate shipbreaking yards with gross negligence."
The letter also urged the government to immediately implement the newly revised Bangladesh Ship Recycling Act 2015 and to accelerate steps to ratify the Hong Kong Convention for the Safe and Environmentally Sound Recycling of Ships.
Kabir Steel's shipbreaking yard is part of the large industrial conglomerate of Kabir Group of Industries. The NGO Shipbreaking Platform has documented several severe and fatal accidents in the yard over the last years. In 2014 alone, when the yard had the highest recorded number of accidents amongst all Bangladeshi shipbreakers, at least two workers were killed and six more severely injured at Kabir Steel's shipbreaking yard and re-rolling mill in four different accidents. This included the case of three workers who suffered severe burn wounds all over their bodies after an explosion on a Norwegian-owned oil tanker.
In another accident in the same yard, on March 30, 2016, cutter helper Md. Abdus Salam fell down from a beached vessel due to the lack of safety measures at work. As a result, he suffered serious injuries including several fractures in his arms and legs.
"The sad accidents record is proof of the fact that Kabir Steel does not ensure safer working conditions, does not comply with proper safety procedures, uses untrained workers, lacks proper infrastructure to guarantee occupational health and safety and does not organise the legally binding Safety Committee at yard level," said Repon Chowdhury, Executive Director of the Platform member Bangladesh Occupational Safety, Health and Environment Foundation.
The Platform welcomes the news that IndustriAll Global Union has sent a letter to the Prime Minister of Bangladesh. It joins the trade union's call for proper investigation and for the rightful punishment of both negligent yard owners and of security guards for the bodily assault of protestors.
There have been other reported deaths at shipbreaking yards in Bangladesh this year:
On March 12, Mohammad Morselin, a 20-year-old shipbreaking worker fell from a ship while working at the SL Ship Breaking Yard in Kumira of Sitakunda Upazila. He died in hospital. Another worker, Minhaj (43), from the same yard also died on the same day. While it has been claimed that heatstroke caused his death, workers suspect that he may have died in an accident.
On March 3, Mohammad Shafiqul Islam Shikder (34) succumbed to injuries incurred while removing an air conditioning unit from a ship which fell on his thigh. He was working in the OWW ship yard owned by Mahsin Badsha.
On January 20 shipbreaking worker Akkas Mian (42) died as an iron plate fell on him during the dismantling of a ship at Asad Ship-breaking Yard at Madam Bibir Hat of Sitakunda Upazila.
The letter is available here.
Source: Maritime Executive