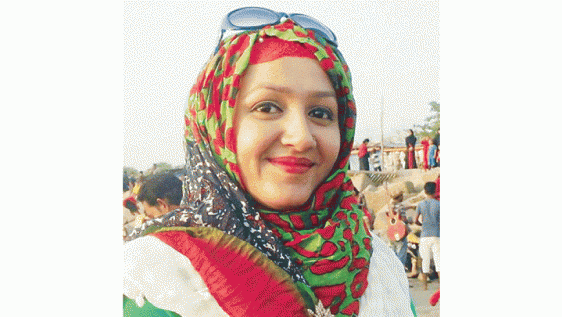 Police in Chittagong say they have arrested one of the three assailants who brutally killed Mahmuda Khanam Mitu, wife of Superintendent of Police Babul Akter, in broad daylight last Sunday.
Chittagong Metropolitan Police (CMP) Commissioner Md Iqbal Bahar made the announcement at a press briefing at the CMP headquarters yesterday.
"Police arrested Shah Zaman Robin, 28, from Laksham upazila in Comilla, at Shital Jharna in the city's Bayezid area this morning," Iqbal told reporters, claiming that Robin is one of the three killers seen fleeing the murder scene on a motorcycle in CCTV footages.
"We suspect that Shah Zaman is one of the trio who took part in the killing of Mitu. He also may be the man who was seen in the CCTV footages crossing the road while talking on his mobile phone," Iqbal said.
"Police have been trying to verify his identity using the CCTV footages. He is also being interrogated since the footages are blurry."
It is the second arrest made by police in the murder investigation; the first arrest was former Shibir man Abu Nosor Gunnu, caretaker of a shrine in the city's Farhadabad area, on Wednesday on suspicion of being involved in Mitu's murder.
The CMP chief said police have information on Robin's suspicious activities that indicates that he may have links with criminals.
"He is unemployed, and according to his neighbours his movement is suspicious. There is a possibility that he could be a hired assassin. He could also be a devoted follower of a certain ideological group. We are looking into his background to see if he has connections with criminals or militants."
Asked about Ansar al-Islam, the Bangladesh wing of al-Qaeda in Indian Subcontinent (AQIS), condemning Mitu's murder, Iqbal said: "Mitu was wearing Islamic attire when she was killed… al-Qaeda may have issued the message to protect their followers' trust in their ideology."
On Friday night, Ansar al-Islam issued a statement condemning Mitu's murder, saying it was "impermissible under Islam," according to US-based monitoring site SITE Intelligence Group.
Asked whether the black microbus that was seized by police on Wednesday had any link with Mitu's murder, Iqbal said they had yet to find such evidence.
"From what we have found, the microbus usually goes to the area [GEC intersection] to pick up officials of Abul Khair Group every day. We have not found any link between the microbus and the murder."
However, the microbus driver Jane Alam is still in police custody and is being interrogated, as police believe he witnessed the murder.
Regarding the suspected militant who was arrested with two knives in a human chain event protesting the murder near Chittagong Press Club on Wednesday, the CMP commissioner said police are still investigating whether he has any connection with militants.
The suspect, Md Ibrahim, 24, claimed to be a rickshaw puller when he was apprehended, but police found two knives, a burner phone and a USB flash drive in his possession.
"We are interrogating him to learn why he went to the demonstration carrying the knives," Iqbal told reporters.
Meanwhile, a Chittagong court set the hearing of police's remand petition for Gunnu in the murder case today.
On Thursday, the Detective Branch of police produced Gunnu before the court seeking to place him in remand for 10 days. The court set today for the hearing and instructed the investigation officer to submit all documents regarding Gunnu's arrest, including the call detail records that police used to find Gunnu.
Mitu, 32, was stabbed and shot to death by three unidentified miscreants in Chittagong's GEC Intersection area early Sunday morning in front of her son. The killers fled the murder scene on a motorcycle after killing her, as seen in the footages collected from the CCTV near the murder scene.
Her husband Babul, who was recently promoted to superintendent of police, filed a murder case with Panchlaish police station against the three killers and their cohorts.
Source: Dhaka Tribune