November 11, 2018  The Daily Star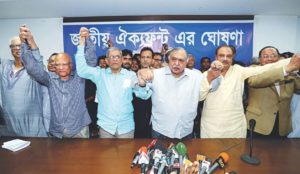 Oikyafront writes to EC urging 1-month polls deferral
Jatiya Oikyafront leaders — from left, Sultan Muhammed Mansur Ahmad, Khandaker Mosharraf Hossain, Mirza Fakhrul Islam Alamgir, Dr Kamal Hossain, ASM Abdur Rab and Moudud Ahmed hold their hands aloft in a gesture of unity at a programme recently. Photo: Collected
Star Online Report
Jatiya Oikyafront today wrote to the Election Commission requesting it to defer the parliamentary polls date by a month.
A delegation led by Bijon Kanti Sarker, an adviser to BNP Chairperson Khaleda Zia, handed over the letter to the commission in person this afternoon.
After submitting the latter, Bijon Kanti Sarker reveal the content of the latter. The Daily Star also obtained a copy of it.
Besides, the BNP-led 20-party alliance also wrote to the commission confirming that the opposition alliance will contest in the 11th parliamentary election with BNP's polls-symbol 'sheaf of paddy'.
They also handed over a list of eight registered parties within the alliance. The parties are BNP, Liberal Democratic Party, Kalyan Party, Bangladesh Jatiya Party, Khelafat Majlish, Jatiya Ganatantrik Party, Bangladesh Mushlim League and Jamiat e Ulama e Islam Bangladesh.