Remake of the superhit track 'Lungi Dance'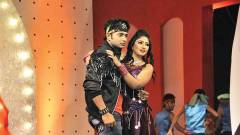 The tendency of copying Bollywood hit tracks and pasting it with a few  catchy Bangla words to our mainstream film is nothing new. However, a wave of young musicians and their tireless effort to pull off Bangla film songs from the gutter improved the situation for a while. But, it seems that the trend is returning in full swing with the remake of the superhit track "Lungi Dance."
Bappy and Anchol recently appeared in a song for the movie titled "Gunda: The Terrorist" which is a poorly constructed Bangla version of Indian rapper Yo Yo Honey Singh's "Lungi Dance." As the song is very popular among the audience of Bangladesh, the director of "Gunda: The Terrorist," Ispahani Arif Jahan decided to go for the remake. While asked about the copyright issue, he claimed that the song is "not an exact copy, it is rather an inspired version." He added: "We used a few lines and a few music pieces from the Bollywood track in the Bangla song. It is not a 'copy,' so no question of copyright arises."
The lyrics of the song is "Chakbum Chakbum, Ailo Kulsum/ Lungi Dance Lungi Dance" and emanates hilarious and funky tone. Kabir Bakul is the writer of the song while the music is composed by Ali Ahsan Shuvo.
"Lungi Dance" is a Gaana style song for the 2013 Bollywood film "Chennai Express," which is a tribute to Rajinikanth, one of the leading actors of Southern India.
The original song with Shah Rukh Khan and Deepika Padukone sees the actors dressed in adequate outfits which went with the mood and tone of the song but the Dhallywood version sees no "lungi" in the entire song.
Anchol said to the Dhaka Tribune: "For the first time, I took part in this kind of a song which resembles an item song. In the film, I portrayed the character of an heiress. My parents want me to settle down and marry but being rowdy and turbulent in nature, I go for a man who is knows the art of fighting."
Bappy said: "In the film, I portrayed a character who has no identity at all. It is interesting in a way and I think the audience will be entertained by it."
Source: Dhaka Tribune