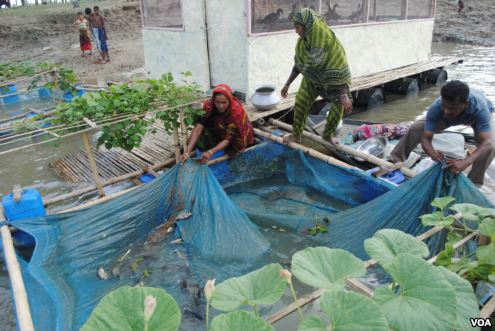 During the monsoon rains in northwest Bangladesh, swollen rivers can flood villages for months at a time. For the rural poor who rely on agriculture, there is no way to make money. But now some people are building small floating farms, where they grow vegetables and raise animals, right on top of the floodwaters.
Dozens of ducks quack as Hafiza Khatun gathers eggs in an unusual coop that floats on water.
It sits on top of a bamboo platform and empty oil drums and is moored to a riverbank near the village of Charbhangura. On this "floating farm", women villagers also raise fish and vegetables. Beyond the farm, boats chug along the river.
Before tending the floating farm, Khatun, 25, could not earn money. She has two small children and no education. Her husband makes money doing piecemeal agricultural work. But his livelihood is wiped out during the monsoon rains from July to October, when waters in the Gurmani river rise at least three meters.
Origins
Three years ago, a Bangladeshi non-profit called Shidhulai Swanirvar Sangstha introduced small floating farms for rural women. The structures are 17 meters – long and nearly five meters – wide and made of recycled and local materials.
Long bamboo rails extend from the duck coop, creating enclosures to raise tilapia in fishing nets. Vegetables such as gourds and beans grow in old plastic containers filled with soil. The pots are fixed to the bamboo rails. Shidhulai pays for the initial costs of the farm.
For Khatun and other villagers, life is hard during the flood season.
"When the water comes, our house goes underwater.." she explains. "There is devastating impact of flood. There is no place to go, no place to stay. Water is all around."
But now Khatun gets extra food and income from the floating farm, which can generate about 130,000 taka, or about $1,700, a year for five to 10 women, depending on the size of the farm. This money goes a long way in rural Bangladesh.
Financial rewards
With the new income, she leased land to grow sugar cane. Khatun's family also started saving money in a bank for the first time. She bought a bed for their dirt-floored home and helps her husband support the family.
Mohammed Rezwan, founder of Shidhulai, started the non-profit in 1998 to create schools on boats. The school boats allow poor children to continue their education even when flood waters block roads. Four years ago, he introduced floating farms so people can still support themselves during flood season.
It's a fitting idea for Bangladesh, a country with hundreds of rivers. Because it is low-lying, Bangladesh is highly vulnerable to climate change and flooding could get worse. People must find ways to adapt to rising waters and come up with other ways to make a living.
Rural people without work migrate to overcrowded cities in Bangladesh, one of the world's most densely populated countries with 156 million people.
''There is big demand for solutions for climate change-affected areas," Rezwan says, adding that Bangladesh is on the frontline of climate change.
"We have hundreds of rivers. So this project has big potential to be scaled up in the country and other developing countries, particularly the countries that will be affected by climate change."
Future plans
So far Shidhulai has set up 40 floating farms that serve about 300 women. Rezwan wants to create 400 farms to serve 3,000 women and their families in the next few years.
He thinks that the floating farm concept can spread to other developing countries.
"We hope [it] will be replicated in other settings. It helps people adapt to changing climates. It creates jobs. It ensures food security and helps the whole family to adapt to climate change," he says.
Shidhulai's school boats, for example, have been copied in several other countries, including the Philippines, Cambodia, Vietnam, Nigeria and Zambia. The non-profit's floating schools have served more than 70,000 children in northwest Bangladesh since 2002.
The non-profit's staff trains rural women to tend floating farms and grow flood-resistant sugar cane.
Khatun had never raised ducks or fish before the training, but her farm is flourishing.
"Nothing has been very difficult," she says.
Source: VOA