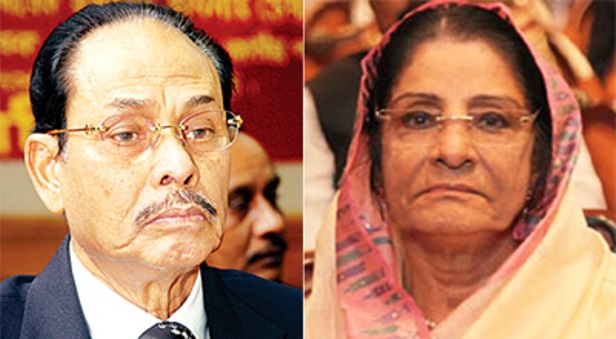 Jatiya Party Chairman HM Ershad and his wife Raushon Ershad have arrived in Chittagong to attend the wedding of the son of Vice Chairman Morshed Murad Ibrahim and MP Mahjabin Morshed.
They landed at Shah Amanat International Airport in separate flights on Friday.
On his arrival in the morning, Ershad was received at the airport by former general secretary Ziauddin Ahmed Bablu, whom he had recently sacked.
Bablu is an MP from Chittagong's Kotwali constituency.
Raushon arrived at 3.30pm. She was also received by Bablu.
Both Ershad and Raushon are staying in the city's Radisson Blu Hotel where the wedding of the Morshed couple's son Shamir Shikander will be held on Friday night.
"Both of them have come to attend the marriage ceremony. I can't say anything more now as I am in the wedding function," Morshed Murad Ibrahim told bdnews24.com.
General Secretary of the party's city unit Muhammad Yakub said they are staying in adjacent rooms in the hotel.
Yakub said no party meeting would be held this time.
"Leader of the Opposition Raushon will leave for Dhaka tonight," he said.
"Hopefully, the two will meet at the wedding function. Other leaders will also be there," he added.
Source: Bd news24