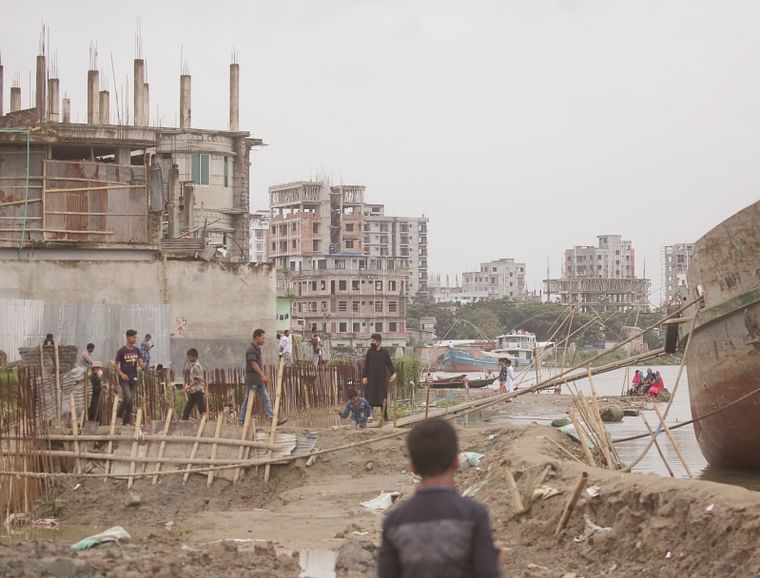 The Detailed Area Plan (DAP), which was made to turn Dhaka into a livable city, now exists only on paper as it has no effectiveness, say urban experts.
They said the opportunity to conserve the city's bio-diversity has been missed as there is no initiative to implement the DAP.
The government passed the DAP in 2010 with a view to shaping Dhaka in a planned way.
Following pressure from housing businessmen, the government was forced to form a cabinet committee to finalise it.
However, the committee could not finalise the DAP in ten years. But it has brought amendments to it over two hundred times.
The city experts alleged that amendments allowed influential people to legalise filling up water bodies.
During the passage of DAP in 2010, Dhaka ranked 139th among 140 livable cities in the world. Dhaka was only ahead of Harare of Zimbabwe. UK-based The Economist's research wing the Economic Intelligence Unit (EIU) made the list.
According to their latest report of 2019, the position of Dhaka is now 138th. Dhaka is only next to Nigeria's Lagos and Syria's Damascus.
Dhaka South City Corporation (DSCC) mayor Fazle Noor Taposh vented his anger over the non-implementation of the DAP in a meeting on the problems of Dhaka on 13 August.
Drawing the attention of the Rajdhani Unnayan Kartripakkha (RAJUK), he said, "You have made the DAP but could not implement it. Now come up with a plan to shape Dhaka in an organised way."
It took six years to make the five-year-long DAP. The formulation of DAP started in 2004. Its draft was prepared in 2007. A six-member review committee led by late professor Jamilur Reza Choudhury was constituted after the Awami League came to power through the parliamentary election in December 2008. This committee made a total of 37 recommendations.
In the cabinet meeting on 21 June 2010, prime minister Sheikh Hasina approved the DAP and asked the housing and public works ministry to publish a gazette. At the same time, a cabinet committee was constituted to review the DAP. Accordingly, the housing and public works ministry published the gazette on 22 June. In another gazette published on 29 June of the same year, a cabinet committee led by the local government minister was formed. In this gazette, about the function of this committee it was said this committee has been constituted to elaborately review the DAP and finalise it. This high-powered committee has not yet said anything about the finalisation of DAP.
Speaking on the amendments, cabinet committee member Tajul Islam told Prothom Alo that two meetings were held after he had taken over the charge of the minister, but he did not attend the meetings.
When asked whether it is legal to frequently amend the DAP instead of finalising it, he said he was unaware of it.
Another cabinet member and state minister for public works and housing Sharif Ahmed did not respond despite repeated attempts.
Architect Iqbal Habib said filling up water bodies is being legalised on the basis of the recommendations of the inter-ministerial committee. The DAP has no effectiveness, he added.
As per a gazette published on 29 June 2010, the cabinet committee's main task was to finalise the DAP. Instead of finalizing it, the committee has brought over 200 amendments in ten years. The amendments were approved through issuing a total of 191 gazettes.
Through these amendments, decisions have been taken against the recommendations of DAP. Filling up of thousands of acres of flood prone areas and water bodies have been legalised. The housing projects that the DAP has recommended to cancel have been approved.
Gazettes of 22 amendments have been issued in February. Some 14 amendments out of 22 have allowed undertaking housing projects, industries and commercial activities in the flood prone areas and water bodies.
Bangladesh Environment Lawyers Association (BELA) chief executive and DAP review committee member Syeda Rizwana Hasan termed the cabinet committee's approval illegal. She said as per the law, RAJUK chairman has been given power to amend the DAP. The inter-ministerial committee has not been given the authority to amend the DAP. So the amendments are illegal, Rizwana said.
Illegal establishments at flood prone areas
As per the DAP of 2010, some 74,571 acres of land were identified as flood-prone out of 3,707,577 acres under RAJUK. According to a survey of RAJUK after ten years, a total of 72,181 establishments were established in flood prone areas identified by the DAP. 99.98 per cent of these establishments are illegal.
Bangladesh Institute of Planners (BIP) general secretary Adil Muhammad Khan said the main responsibility of RAJUK is to protect these areas. It is very urgent to protect flood prone areas in a bid to hold ground water and to conserve the biodiversity.
Relocation of industries
The DAP recommended to relocate 2,724 industrial units established in an unplanned manner. The recommendation says some industrial units are built in such a way, those in no way can be allowed in a planned city. Of these industrial units, a total of 152 units were in Tongi, Gazipur, Tarab, Rupganj and Kaliganj. Some 2135 units were in Narayanganj Sadar, Bandar, Kadamrasul, Sonargaon, DND areas. Besides, 17 units were in Dhaka, 294 units were in Savar, Gazipur, Aminbazar, 14 in Keraniganj and 65 in Savar-Ashulia.
But most of these industrial units are not relocated. The cabinet committee has even given its opinion to keep those units in its existing place.
In perspective of a planned city, 10-15 per cent of total land has to have water bodies to make a metropolitan city livable. But there are water bodies on only 3-4 per cent of land in Dhaka, those water bodies are being filled up. City planners' organization BIP last year published a research on filling up water bodies in RAJUK area.
Analysing the satellite image, the research finds about two thousands and half acres of water bodies are being filled every year. Water retention area is mainly being filled up and then flood prone area.
BIP former vice-president Fazley Reza said the water bodies of Dhaka are being filled. The water bodies filled up in last ten years could be stopped, the water logging in the capital would not be so intensive.
According to BIP research, when DAP was made in 2010, water bodies were on 9,556 acres of land. In 2019, the amount decreased to 6,073. City expert Nazrul Islam said the DAP review committee made a total of 37 recommendations to turn Dhaka livable. He is one of the members of the review committee.
Speaking to Prothom Alo, he said there are rules and principles where houses will be built and where industries to be established. The city has to be planned in complying this. The DAP made that sort of plans. RAJUK or the government is responsible to implement these recommendations.
* This report, originally published in Prothom Alo print edition, has been rewritten in English by Rabiul Islam.