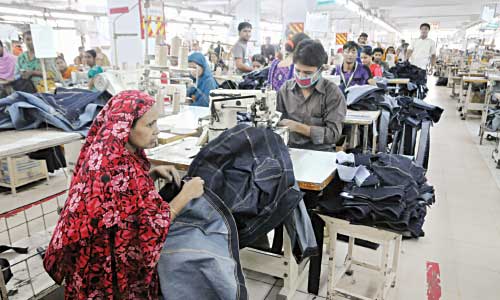 The Bangladesh Garment Manufacturers and Exporters Association has requested the International Labour Organisation to extend the time frame for completing cost-free factory inspection by two more months.
In a letter to ILO programme manager (RMG sector) Tuomo Poutiainen, the BGMEA on Monday said that if the safety inspection at the readymade garment factories led by the government and the ILO ends by July 31, some factories would remain out of the assessment due to Ramadan and other unavoidable reasons.
'As such, to complete inspection of the remaining factories, we feel that the inspection time should have to be extended up to September 30,' the BGMEA said in its letter.
The BGMEA requested the ILO to extend the time frame for the completion of inspection after having discussion with the labour ministry.
After missing several deadlines, the ILO had set July 31 as the final deadline for the completion of the safety inspection and announced that after the deadline factory owners would have to bear the cost of safety assessment at their units.
The ILO had missed the previous deadlines due to non-cooperation from some factory owners and inconsistency in information given about factory locations and contact numbers.
BGMEA vice-president Shahidullah Azim told New Age that during Ramadan factory owners would remain busy with arranging wages and allowances for the workers and it would not possible for them to concentrate on the inspection programme.
'We have proposed the ILO an extension of time for the inspection and I hope they will accept it,' he said.
The BGMEA in its letter also requested the ILO to submit the inspection reports of factories to the Department of Inspection for Factories and Establishments so that the factory owners can produce those before the buyers and can take necessary actions as per corrective action plan.
Syed Ahmed, inspector general of the DIFE, told New Age that he received from the BGMEA a copy of the letter which had been sent to the ILO.
'The issue will be discussed. And if the ground of the BGMEA is proved valid, I will also recommend extending the time frame for ensuring inspection at the 100 per cent factories,' he said.
According to the ILO, after the Rana Plaza building collapse the immediate priority was to carry out safety inspection at all 3,508 export-oriented RMG factories across Bangladesh.
As of June 24, some 2,904 RMG factories were inspected. Of them, 1,000 units fall under the government's National Initiative under the Tripartite Plan of Action, supported by the ILO.
An additional 1,904 factories have been inspected by the EU and North American retailers' groups.
After the Rana Plaza building collapse that killed more than 1,100 people, mostly garments workers, in April 2013, EU retailers formed Accord on Fire and Building Safety in Bangladesh while North American retailers formed Alliance for Bangladesh Workers Safety.
Source: New Age