'The Night It Rained Guns', a book by India's top investigative journalist Chandan Nandy, says the AN-26 aircraft, that dropped a huge quantity of weapons over West Bengal's Purulia district on Dec 17, 1995, had repeatedly tried to land at Dhaka.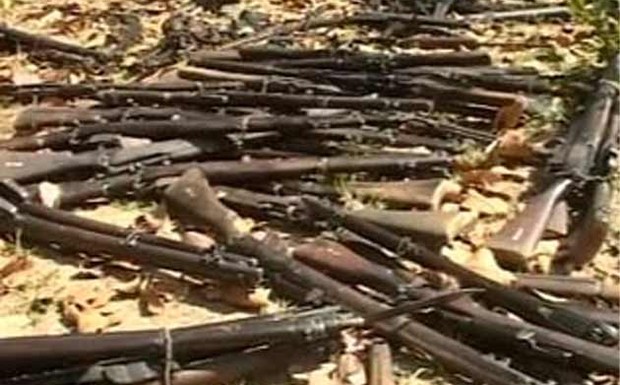 That was after it flew out of Karachi in Pakistan and Varanasi in India, using the cover of carrying a legitimate consignment for the Bangladesh Army.
The AN-26 with the huge consignment had started from Bourgas in Bulgaria and stopped at Ispahan in Iran before touching Karachi and Varanasi.
The book by Nandy says that the aircraft was used by Danish freebooter Jan Christien Neilsen alias Kim Davy to transport the weapons from Bulgaria with a fake End-user certificate (EUC) issued against the Bangladesh Army.
Nandy says Nielsen possibly worked for CIA and both Dhaka and Rangoon figured in his original flight plan.
Jan Christien Neilsen alias Kim Davy
He finally did not get permission to land in either airport.
The EUC no – 4021/1/AA/ARMY/ASL (P) 2 dated Nov 9, 1995 was signed by Major General Subed Ali Bhuiyan.
Nandy's book says British gunrunner Peter Bleach, who worked with Kim Davy on this arms drop, had procured this fake EUC through one Syed Taslim Hussain of M/s Riverland Agency, that was operating out of Kazi Nazrul Islam Avenue in Dhaka.
"Syed Tasleem Hussain's 'success in business was attributed to patronage of the then Bangladesh Prime Minister Begum Khaleda Zia, whose brother Syed Iskander (Sayeed Eskander) had a stake in Hussain's company, Riverland Agencies," says the book published by Rupa.
Iskandar, a former army major and advisor to Khaleda, died of lung cancer in New York in Sept 23, 2012. He was elected MP from a Feni constituency in 2001.
Nandy, who is now a senior editor with The Times of India, says: "A subsequent secret letter (Nov 25, 1995) of the Bangladesh Directorate General Defence Purchase (DGDP), signed for the director general by a Major M Jasim Uddin, however, authorised M/s Border Technology and Innovations Ltd to 'take all steps to conclude the subject contract, namely 214/719/19/Project/DGDP/Ord/P-4'29.
"The wooden boxes containing the arms and ammunition bore the seal (in stencilled capital letters) 'COMMANDANT CAD RAJENDRAPUR
CANTT, BANGLADESH'.
On one of the wooden boxes was written in bold: 'CASE NO. 34 OF 60, CONTRACT NO. 214/719/ PROJECT DGDP'.
BTI was run by Bleach's friends Peter Scott and Robin Campbell and had been drafted in by the British gunrunner to smoothly organise the arms procurement in Bulgaria.
Nandy says that Neilsen repeatedly tried to get permission to land at Dhaka but failed.
"Suspecting something fishy, the DGFI recommended that no landing permission be given to the AN-26," says the book.
"In fact, Nielsen's Carol Air Services had approached the Civil Aviation Authority of Bangladesh on Nov 19, 1995, for landing permission, claiming that the aircraft would carry general cargo from Shaheen Airport Services for Air Parabat Ltd, Bangladesh.
"Responding to a query from the Bangladesh civil aviation authorities, Carol Air Services claimed that it sought landing permission so it could showcase a static demonstration of the AN-26 at Dhaka's Zia International Airport."
Jan Christien Neilsen alias Kim Davy
It named Bangladesh's just-retired Air Force chief, Air Vice-Marshal Altaf Hossain Chowdhury, as a local reference.
Chowdhury who was air chief from 1991 to 1995 was later home minister in the 2001-06 government headed by Khaleda Zia. He was a part of the BNP chief's advisory committee.
"In the event, a letter from the then Bangladesh Civil Aviation assistant director, Mohammad Habibullah, to Dhaka-based Air Parabat Ltd, associated with Syed Tasleem Hussein, said 'no action can be taken' on the landing permission request."
The Purulia arms drop created a furore in India and was seen as a huge breach of the country's air security architecture.
Source: bdnews24