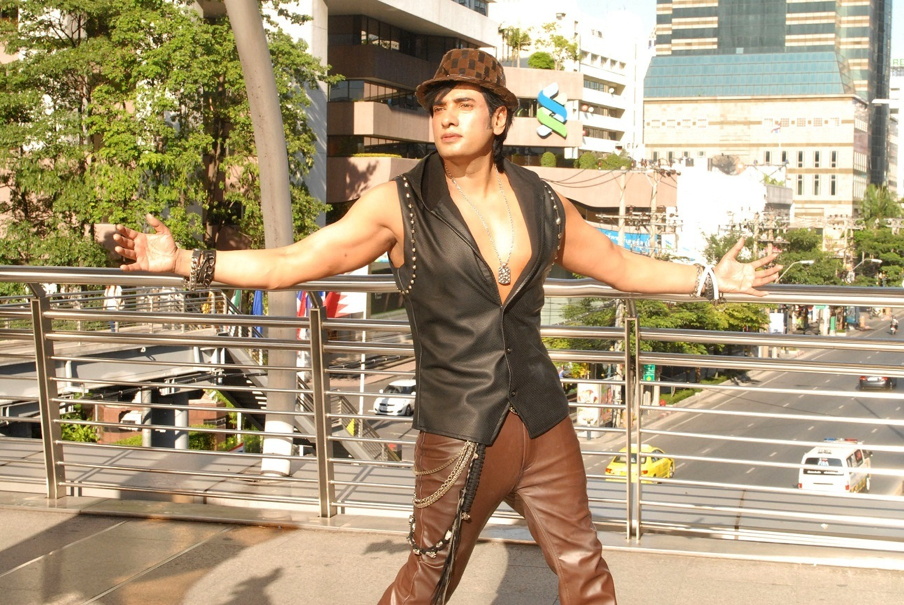 Nazmus Saquib chats with the film-star on politics, recent works, ambitions, upcoming ventures, et al in a freewheel conversation

When you enter the AJI Group Office in Savar's Hemayetpur, you will notice a kind of discipline in the activities of all the employees who work there. From the receptionist, sewing operators to the public relations officer, all were seen busy with their respective jobs as we entered the premises on a sunny winter morning. The man behind this vibrant production unit is none other than the well known movie star of our silver screen — M.A Jalil Ananta. Apart from his identity as a CIP (Commercially Important Person), Ananta has also hit the jackpot with his shining movie career, much to the disappointment of his detractors. With only a five film old career, he has already established his firm footing in the film industry. Love him or hate him, you just can not ignore him. Read on as we present to you your very own AJ like never before!

Your GrameenPhone commercial has fetched rave reviews for you and the dialogue 'Osomvob Ke Somvob Kora Anantar Kaaj' (Ananta makes impossible possible) has become the much talked about catch-phrase in recent times. Anything to say about this?

Actually some telecom operators had previously approached me to appear for their various packages launch commercials but I think that would have done injustice to my potentials. I wanted to do something that would have a lasting impact with the viewers and when the GrameenPhone's marketing team approached me with this particular script, I really liked the concept. GrameenPhone is a prestigious brand and they thought I am qualified enough to fit the bill for them. At the end of the day, I am just happy that everything pulled off perfectly in this commercial.

'Nissartho Bhalobasha' has a long run in theaters, eight months to be precise. How does it feel?

It really feels wonderful and I am just grateful to the Almighty Allah and my fans for this achievement.
Many people term you as the 'Bangla James Bond'. Do you have any wish to play the James Bond character?
It is almost an impossible task to get the copyright of James Bond here. However I think our Bangladeshi character 'Masud Rana' from the novel 'Tin Goyenda' series has some resemblance with the James Bond. I am seriously thinking about playing the character of 'Masud Rana' in my forthcoming project.

Tell us something about your next film 'Most Welcome 2'.

We have already done 95 days shooting. The film has 15 action sequences and we have already done 12 of those. We need another 30 days of shoot to complete the film. Then it will go for the post production. I am not in a hurry to release it due to prevailing political situation. Besides, in the name of 'Digital Film', some people are engaged in a monopoly business as they get preferential screening privilege due to their finance in certain movie theaters. I can't compete with them as this is not my business. I will only release my film when cinema hall owners will give me a fare chance to screen my films.

But you once said that you will set up multiplex movie theaters across the country…

I won't do this. I am indeed frustrated the way the film industry is heading now. I can't save the dying movie industry with my solo effort. Nowadays some filmmakers are making vulgar films and I don't know why the censor board is silent to this. The recent political violence in the country, especially the emergence of petrol bomb, is to some extent, the creation of our film industry. There are many films which directly instigate violent activities. In my films, I do not need to depend on skin show, I do not need to use slung or cuss words, yet I can recover the invested money from my films. Why the other directors or producers can't do this? Why don't they emphasize on disseminating social messages through their films?

Our country is in turmoil due to political unrest. Would you take any initiative to arrange a dialogue between our two leading ladies to end this political impasse?
In tv commercials or in films, Ananta can make impossible possible but in the field of politics, I do not think I have that charisma in me to arrange a dialogue between these two ladies. Our business is dying, film industry is badly hurt, and every sector is in a bad state due to political instability. But I genuinely hope and pray that the situation would improve in the coming days.

You have conducted a motivational course for the Army personnel. How was the experience? Would you like to take such course for the youngsters at universities?

I have a very good rapport with the Bangladesh Army. I gave a motivational speech on maintaining body fitness. I really felt honored for the gestures they showed to me. If invited, definitely I will try my best to conduct such courses for the university students.

You are known for many philanthropic activities. Recently you provided financial support to former film actress Bonosri. Could you please elaborate on this?

Actually I feel very embarrassed to talk about this. I provide regular financial support to madrasa, orphanages, old homes, etc. And I have been doing this even before my arrival to the film industry. I do charitable works as much as I can from my capacity and I do not like to talk about them with the media.

Initially some like to ask them through you, "Why don't you come up and show and reply them through my works.