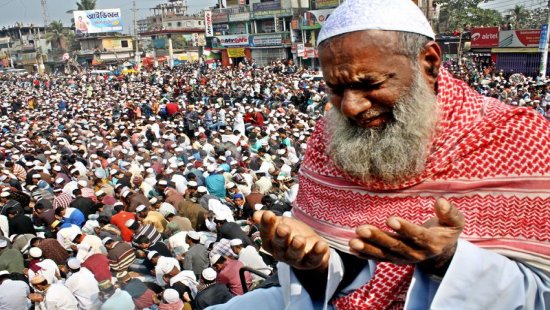 The 2nd phase of Biswa Ijtema, the second largest Muslim congregation after holy Hajj, ends on Sunday with the Akheri Munajat (ending prayers) to be joined by millions of people.
Noted policymaker of Tablig Jamaat Maulana Jubayer Al-Hasan from India is scheduled to conduct the Akheri Munajat at 11 am.
The second day of the 2nd-phase Biswa Ijtema passed off Saturday with the participation of tens of thousands of devotees from home and abroad on the bank of the Turag River at Tongi on the outskirts of the capital.
The 2nd phase of three-day annual Islamic congregation began on Friday with the deliberation of 'Aam Bayan' (general sermons) after Fajr prayers.
District Administration sources said 25,000 Muslims from 130 countries are taking part in the Ijtema this year.
Islamic scholars from different Muslim countries, including Pakistan, India, Saudi Arabia and the United Arab Emirates were delivering sermons which were being instantly interpreted into Bangla, English and a few other languages.
Meanwhile, two devotees died of old age complications at the Ijtema venue from Friday night till early Saturday.
Of the deceased, one was identified as Nur Mohammad, 70, a resident of Razarampur village in Sonaimuri upazila of Noakhali district, while the identity of the other could not be known immediately.
With the two, a total of seven devotees have died at the venue of the 2nd phase Biswa Ijtema so far. The Namaz-e-janaza of the two devotees was held on the Ijtema ground after Fajr prayers.
Like the previous years, a dowry-free mass wedding ceremony of 50 couples  was held at the Ijtema ground. Indian scholar Zobayerul Hasan conducted the weddings after the Asr prayers.
The first phase of the Biswa Ijtema concluded on January 26 with the Akheri Munajat (concluding prayers). People from 32 districts attended that.
People from 33 districts (including Dhaka) are attending the second phase one.
Ijtema is being held in two phases since 2012 to ease the accommodation and transportation problems.
Source: UNBConnect