Sacked Grameen Bank managing director Muhammad Yunus desperately solicited Hillary Clinton's help for ending his feud with the Hasina government over the control of the bank.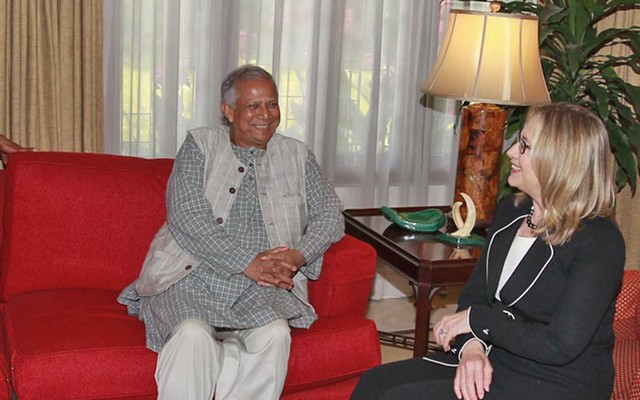 Emails released from her time as secretary of state show that Yunus lobbied with her time and again to use her influence on the Bangladesh government to sway its opinion in his favour.
The Obama administration bestowed him with America's highest civilian honour. The Nobel Peace laureate is a long-time friend of the Clintons.
He made his political ambitions clear during the military-backed emergency rule in 2008 and stayed in close touch with Hillary who took over at the Department of State a year later.
Yunus continued to feed her a steady diet of information on his bitter saga with Prime Minister Sheikh Hasina after his dismissal from the office.
The email archives of the former US secretary of state are being released in monthly batches by the Department of State.
It has released some 7,000 emails and more than 300 of them were in regard to Bangladesh, with a good many of the electronic correspondence having to do with Grameen Bank.
But the State Department kept Hilary's replies to some mails under wraps.
The Grameen Bank founding MD, who was given the Presidential Medal of Freedom by President Barack Obama in 2009, used to reach Hillary via State Department official Melanne Verveer.
In one of the email threads, Verveer wrote to Hillary that 'Yunus (was) still very concerned about future of Grameen'.
Verveer was sent a mail on behalf of Yunus on Sep 9, 2009, about Hillary's meeting with then the foreign minister Dipu Moni and the visit of Hasina to the US during the UN General Assembly meeting.
The email read:
"Dear Melanne: Greetings from Bangladesh!!! Bangladesh Foreign Minister Ms Dipu Moni will call on Secretary Clinton on September 16 to discuss the details of the visit of Bangladesh Prime Minister Ms Hasina Wazed to the USA during the UN General Assembly meeting.
"Please see if the issues of Grameen Bank can be raised in a friendly way. I sought an appointment with the Prime Minister to brief her on our problems, at the advice of the US ambassador in Dhaka.
"But it is now over six weeks, her office never responded. Almost every important person in Bangladesh congratulated me for receiving the Presidential Medal of Freedom. Prime Minister and her party said not a word about it.
"So you can see the depth of the problem. I thought I should keep you briefed and let you figure out what to be done.
"Thanks for your help. Give my regards to H. See you in CGI and Hilton event soon. Best. Yunus."
Another email from Yunus referred to the English-language Daily Star's Sep 17 report on Hasina's remarks about Grameen Bank.
It read:
"Dear Melanne: I am drawing your attention to the following report in the leading daily newspaper in Bangladesh. All other papers carried the same news.
"This is a report on the Prime Minister Hasina's speech on the floor of the parliament. High-lighted section of the report refers to me without naming name but giving her usual description of me.
"See if you can find a way to clear her mind of all the terrifying thoughts she has about me. I invite you to be a peace-maker! Otherwise it will become explosive for nothing.
"PM Hasina is coming to NY for General Assembly meeting, and will have a meeting with Sec H (Hillary) during her visit. See you soon. Yunus."
The Daily Star report was attached below the email.
Melanne Verveer then forwarded it to Hillary headlined, "The ongoing saga involving Yunus and Hasina."
On Sep 20, the former secretary of state replied: "I'm seeing Yunus [tomorrow]. We're both speaking to the Hilton Foundation. He wants to meet with me there. I will learn more."
The next day, Verveer got back to Hillary with this email:
"I talked to Yunus. She (Hasina) is making any [progress] very difficult. The health project he discussed with (you) can't get OKs from govt for Nursing school, univ health center, corporate partnerships, etc.
"He was hoping there might be some way to assure her (prime minister) that he has NO intention of getting into politics in any way and that she can use him effectively to make the country a model in ways that Grameen can do that," the thread read.
"There is some deep personal antagonism that he can't fathom. Very sad development," Verveer added.
​bdnews24.com's report based on investigative documentary 'Caught in Micro debt' by national Norwegian television, NRK, which was aired on Nov 30, 2010, also came up in the mails between Yunus and Hillary.
The documentary had accused Yunus of transferring funds without informing the donors and alleged that the lenders had protested against his dealings.
Bangladesh Bank in March 2011 forced Yunus from his Grameen Bank office on the grounds that he had crossed the official age limit.
Yunus had challenged his dismissal in the top court but lost.
Since then, he has been at loggerheads with the Hasina administration.​
Source: bdnews24