State Minister for ICT Zunaid Ahmed Palak has reminded the young that they will have to lead Bangladesh to prosperity.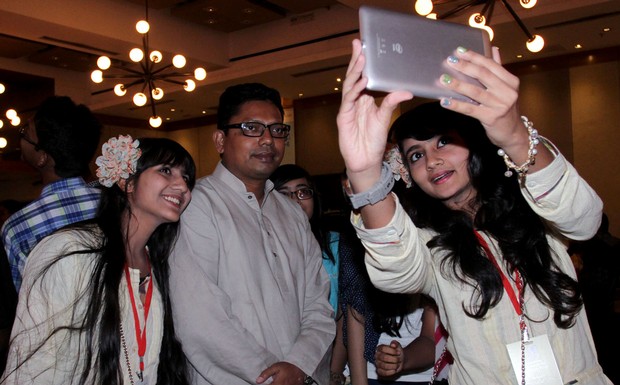 The young minister, known for his humour, enthralled a group of young, aspiring journalists with his speech in Dhaka on Sunday.
He was speaking at the launch of the book, 'Amar Kotha, Amader Kotha (My voice, our voices),' a compilation of reports and essays written by children and adolescent journalists.
The book is a unique endeavour of the first Bengali website meant for young journalists, hello.bdnews24.com
Palak spoke about what he expected of them and the government's many promises for the young – the 'future leaders of Bangladesh'.
The theme of Sunday's book-unwrapping function was 'Amar Kothao Jabe Bohudur, (My voice will also reach far), at the Hotel Radisson Blu Water Garden.
Education Minister Nurul Islam Nahid also attended the programme.
Palak touched an array of issues in his speech while wittily engaging the young audience.
The enthusiastic children responded at times by answering in one voice and raucous applause.
He told the children that he would be 41 years old in 2021, the golden jubilee of Bangladesh's independence, and asked the children what their age would be.
But he answered it himself, "In 2041, you will be old enough to maturely lead Bangladesh."
Palak raised the slogan – 'the young will build a new country, and Bangladesh will become digital'.
Mobile-phone operator Grameenphone was the co-partner of the programme, attended by its Corporate Affairs Officer Mahmud Hossain.
The state minister for ICT urged Grameenphone to introduce a 'special package' for young journalists of Hello.
"Let us introduce some packages and provide each of the Hello children journalists with a SIM. They are only a few hundred," he said.
Palak pledged to provide laptops for Hello journalists in every district from the ICT Division.
"I'd like to see Hello reports on whether the schools that received computers and multimedia classrooms, are functioning properly," he told the young journalists.
He urged them to be alert against the misuse of public money and corruption.
Bangladesh's first-ever specialised children's news service website hello.bdnews24.com was launched on Mar 13, 2013.
Mostly children and adolescent journalists are involved in content development, starting from news gathering to presentation on the website.
The news-based website is administered by bdnews24.com.
Photo: asaduzzaman pramanik/ bdnews24.com
At Sunday's programme, State Minister Palak was seen enjoying his time with the young journalists, who were busy taking selfies with him.
"Today I feel very encouraged, happy. I want to build Digital Bangladesh with this generation. We'll build tech-based Bangladesh with this generation," he said.
"You are not only the pride of Bangladesh. You are the role model of children journalism in the world. We want this, too. We don't want to lag behind," he added.
According to Palak, 2.4 million people in Bangladesh used the Internet in 2008 and the number now swelled to 45 million.
"Though the rate of literacy is 60 percent, 80 percent of the people of the country use mobile phones. Is there any other country like this? Who will be able (to achieve prosperity) if we don't?"
The second Bangladesh-Pakistan ODI started at Mirpur Sher-e-Bangla National Cricket Stadium around one and half an hours before the programme.
Palak said, "I know you are not attentively listening to me. You are watching (the match) on your mobile phones lowering your heads. Tell me what the score is."
The children journalists answered at once.
The young minister seemed to reduce the difference of age with his game of words.
"ICT Division is a new division. It was launched only two years ago. The ministry is new and the minister, too. The age of the ministry is not much, and the minister's too," he said.
He told the children journalists that a mobile app of the ministry will be launched. "I want you to monitor ICT Division's activities."
He said his ministry was eager to launch a competition on the themes – 'How you want Bangladesh to be', 'What social awareness work you want to do using ICT' and 'What can be done for children using ICT'.
Hello journalists will also be able to join the competition, he said, and urged Grameenphone to be with the initiative.
Palak also announced addinghello.bdnews24.com as an administrator of cloud source application.
The role will allow the children journalists to report all sorts of video, audio or documents of public harassment like torching vehicles or sexual harassment of women.
Source: bdnews24