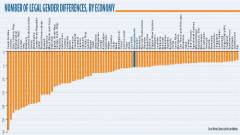 Bangladesh is expected to add 1.8 percentage points to GDP growth each year as the number of women joining the country's labour force continue to rise, says a new report by World Bank.
This will help the country graduate to medium-income level by 2021, it adds.
The female labor force participation rate could be increased from 34% to 82% over the next decade, according to the World Bank Group's Women, Business and the Law 2016 report released yesterday.
To achieve this, policies should go beyond anti-poverty programmes to focus on childcare, transportation and removing legal restrictions on women's work.
However, it said Bangladesh women faced job restrictions such as working in certain factory jobs or working in certain occupations, such as mining.
The report, published every two years, examines laws that impede women employment and entrepreneurship in 173 economies throughout the world. The 2016 edition expands coverage in South Asia from five to eight economies, adding Afghanistan, Bhutan and the Maldives.
The World Bank's World Development Report on Gender Equality and Development estimated that eliminating barriers of discrimination against women working in certain sectors or occupations could increase labour productivity by as much as 25% in some economies, simply by increasing women labour force participation.
Gender gaps in women entrepreneurship and labour force participation account for estimated income losses of 27% in the Middle East and North Africa, 19% in South Asia, 14% in Latin America and the Caribbean and 10% in Europe, according to the report.
"Worldwide, if all women were excluded from the labor force, income per capita would be nearly 40% lower."
In 35 of the 173 economies, the report said female surviving spouses didn't have the same inheritance rights as their male counterparts.
In South Asia, widows do not have equal inheritance rights in Afghanistan, Bangladesh, Nepal and Pakistan. Women may also be pressured by relatives to give up the inheritances they do receive.
Women in South Asia continue to trail their peers in many other parts of the world, as discriminatory laws thwart their economic advancement.
Several economies from the South Asia region are among the most restrictive in the world in the dimensions measured affecting women entrepreneurship and employment.
Afghanistan, which is one of the most restrictive economies in the world, imposes more than 20 legal barriers to women economic inclusion.
In India, the region's largest economy with 612m women, job restrictions remain widespread, with women not allowed to work in mining or in jobs that require lifting weights above a certain threshold or working with glass. In Pakistan, many restrictions on women prevail.
The report found that legal gender differences are widespread: 155 of the 173 economies covered have at least one law impeding women economic opportunities.
It said number of legal gender differences is highest in Saudi Arabia and lowest in Fiji. Bangladesh is placed 50th out of 173 countries in number of legal gender differences.
In 100 economies, women face gender-based job restrictions. Forty-six of the economies covered have no laws specifically protecting women from domestic violence. In 18 economies husbands can legally prevent their wives from working.
Over the past two years 65 economies carried out 94 reforms increasing women economic opportunities. Most of these reforms took place in developing economies, with 19 in Europe and Central Asia, 18 in Sub-Saharan Africa, and 16 in Latin America and the Caribbean.
Source: Dhaka Tribune