All internal and external dealings at two major sea ports in Chittagong and Mangla have come to a halt due to suspension of work by river vessel workers.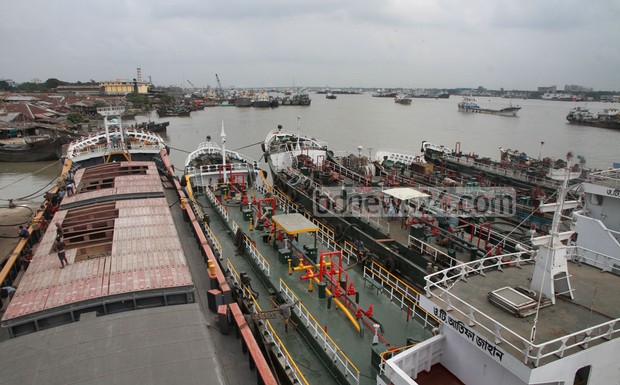 The workers are on an indefinite strike from Saturday demanding that their security be ensured and that river routes be freed from extortions, intimidations and robberies.
The trigger for the strike was the recent robbery and subsequent disappearance of seven labourers. Lighter Vessels Workers Union and Bangladesh River Vessels Workers Federation backed the workers and decided to observe the strike nationwide.
The union's general secretary Nabi Alam told bdnews24.com that a fertilizer-loaded vessel, MV Karnaphuli-5, was headed towards Baghabari from Chittagong on Friday evening when it was attacked.
The boat was ambushed by robbers at Ramgati Upazila in Lakkhipur. After looting the ship, the raiders confined three of the 10 workers to a cabin. The other seven have been missing since.
"Labourers around the country spontaneously halted work after the news of the incident broke out. We supported it when we were contacted," Nabi said.
The federation's joint secretary Khorshed Alam said, "The strike will continue as long as the security of the workers is not assured and the missing men rescued."
General secretary of the federation, Chowdhury Ashiqul Alam told bdnews24.com that robberies have been taking places regularly in areas around Munshiganj, Muktarpur, Gajaria, Shatnal Meghna bridge, Narayanganj, Hatkanda, Narshingdi, Maniknagar and Dhaka's Buriganga River.
Although this was reported to naval police, navy and coastguards no actions were taken, he said.
"The naval workers are feeling extremely insecure as the authorities took no action against those pirates," Alam said.
The workers held a protest rally at Chittagong's Sadarghat road from Saturday morning.
Besides a halt to transportation of goods inside the country, discharge of products from big ships in the outer anchorage of Chittagong port has also stopped.
About 2,400 lighter vessels operate on the country's river routes with nearly 200,000 workers employed in the boats.
Port job affiliates said release of goods from the big ships has been stopped in the port's outer anchorage for unavailability of lighter vessels.
Additionally, transport of goods in lighter ships has come to a halt on 16 routes inside the country.
"We know nothing about the strike. Work in the outer anchorage was operational on Friday. We can find out if it is operational today (Saturday) after the anchorage agents return," Chittagong port manager (transport) Golam Sarwar told bdnews24.com.
Bangladesh River Vessels Workers Federation's Mangla branch chief, Anwar Hossain Chowdhury told bdnews24.com that pause in workers' service has disrupted transportation of goods in Mangla port as well.
The federation's acting chief, Md Shah Alam said more than 100 other robbery incidents took place within the last month besides Friday's episode.
"Pirates have been extorting, intimidating and mugging on the country's river routes for the last five years. Despite being informed repeatedly, the authorities are not taking any steps. So we are forced to go on indefinite strike, which will continue as long as our demands are not met," he said.
Source: bdnews24