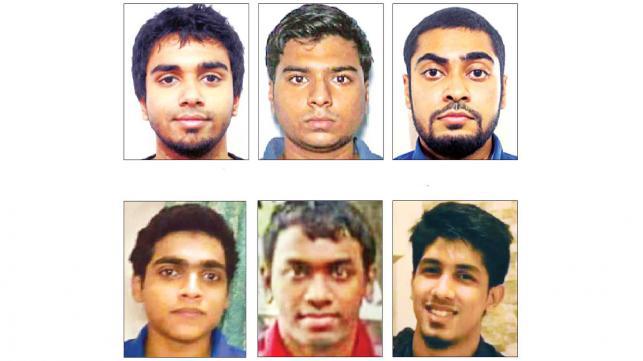 The militants involved in the attacks at Holey Artisan of Gulshan, Sholakia in Kishoreganj and the Kalyanpur raid, share an unusual similarity; seven of them were affluent young adults from privileged backgrounds.
They were students of private, English medium schools and universities. The question haunting everyone is why and how these youths are turning out to be militants.
This has created anxiety among people of all classes, especially parents of university students.
According to security analysts and psychologists, militant groups are selecting educated youth who are familiar with the use of information technology.
Altogether 16 militants have been killed in police operations in the Gulshan and Sholakhia attacks, the murder attempt on Madaripur college teacher, and finally in the last Tuesday's Kalyanpur raid.
Except for the Holey Artisan attack, one suspected militant has been arrested in each of the attacks.
Seven out of 19 terrorists were students of English medium backgrounds and studied at private schools and universities.
Four of them were students of North South university, one of BRAC university, one from Monash University of Malaysia and another an O' level graduate of Scholastica.
The rest belonged to middle and lower income class families; four of them were college students, six studied at madrasas and one studied only up to third grade.
One body is yet to be identified.
Security analyst and former election commissioner Brigadier General M Sakhawat Hossain (retd) told Prothom Alo that the involvement of privileged youths in militant activities began in 2012-13.
"The militant trainees changed from the poor and religious youths to the educated and privileged ones because the latter are more apt at global internet based communication systems and establishing the 'Islamic State'. A large percentage of those who went to Syria from Western countries, are also highly educated individuals."
Involvement of affluent youths in extremism came to light after Hizb-ut-Tahrir (presently banned) began its activities in 2001 focusing on youth from wealthy families and who were students of both public and private universities.
A large percentage of its members were from North South University and other private institutions.
The attack at Holey Artisan Bakery in Gulshan on 1 July shook the public.
Three of the five militants killed in the attack were students from English medium schools and private universities.
Among them, Rohan Ibne Imtiaz was a student of BRAC University. He completed A' levels from Scholastica.
Meer Saameh Mubasheer also passed his O' levels from Scholastica.
Nibras Islam got admission to North South University after passing from Turkish Hope School. Later he went to study at Monash University in Malaysia.
All of them belonged to the upper-class families of the society.
The public received another blow when the identities of the eight terrorists among the nine killed during the recent Kalyanpur raid were revealed.
Among the eight militants, Shehzad Rauf alias Orko was reportedly a US citizen and MBA student of North South University.
Taj-ul-Haque Rashik was a student of Electrical and Electronics department of North South University. He passed his O' levels from Academia and completed his A' levels from Mastermind School.
Akifuzzaman Khan studied at the North South University after completing his schooling from Turkish Hope School.
Among the other five, one was an honours student, one was an HSC student, two were from madrasa and one studied till class III.
The militant, Abir Rahman, killed during the Sholakia attack was also a student of North South University who completed his A' levels from Bangladesh International Tutorial (BIT).
Golam Saifullah (Fahim) was an HSC student. He was killed reportedly in a gunfight with police after being arrested for a murder attempt on a Madaripur college teacher.
Why did the children from such affluent families and students from such reputed educational institutions take such a path?
Psychology professor Tajul Islam of National Institute of Mental Health said that it is not right that poverty and education of a particular type of institution drive people to militancy.
Wealth and or worldly matters do not lead towards militancy.
Keen interest in religion is created among the youth. Then they are influenced with religious misinterpretations. Social status does not matter in this case.
Tajul Islam said that religion should correctly interpreted to bring youth back on track. They have to be brought up with right values. An anti-militant mindset has to be instilled in them through cultural activities and family awareness.
Source: The daily star