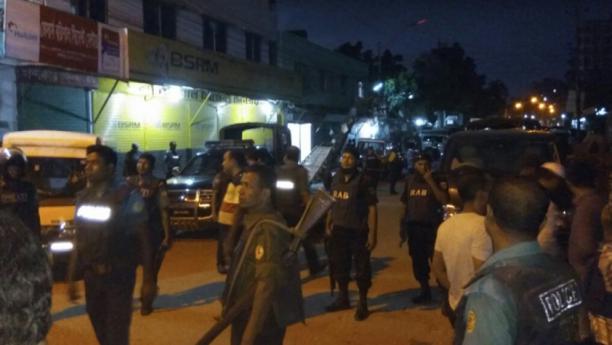 An absconding militant was killed during a police drive in a possible militant den late this evening in Mipur's Rupnagar in Dhaka. Last reported, the drive was underway.
– Absconding militant of N'ganj raid killed
– 3 police officers shot, stabbed during raid
– Crackdown underway in possible den
The killed militant was Jahangir Alam Murad, who managed to flee during Narayanganj raid earlier this week, a top police official told The Daily Star on anonymity.
Rupnagar Police Station officers, Syed Shahid Alam, officer-in-charge, and Md Shaheen Fakir, OC (investigation), were injured, said Md Yusuf, duty officer of the police station.
Shahid Alam has received stab wounds on his back. Shaheen Fakir has been shot on his left arm, our correspondent reports from Dhaka Medical College Hospital, where they were taken.
Sub-Inspector Mominur Rahman was later also admitted to DMCH with stab wounds on his hand.
Details of the crackdown were still sketchy as developments were still flowing in.
In the aftermath of terrorist attack on Gulshan's Holey Artisan on July 1 and Sholakia attack on Eid day, Bangladesh's law enforcers have been carrying out thorough anti-militancy drives.
Since then, two successful drives were carried out – one in Mirpur's Kalyanpur where nine militants were killed, followed by the drive in Narayanganj where a terror kingpin was killed.
Source: The Daily Star