BNP activist shot dead in Magura, miscreants set fire to train in Narayanganj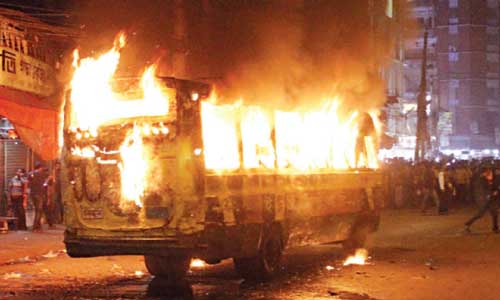 Another opposition activist was killed in police firing in Magura as blockade and general strike intensified with vandalism, crude bomb blasts and presence of pickets in the streets in the capital as elsewhere across the country on Sunday, the first day of 72-hour general strike and 41st day of transport blockade.
Unidentified people set fire to two compartments of a train in Narayanganj on Sunday evening.
A Secondary School Certificate examinee in Sylhet and three opposition activists in Bogra, Magura and Lakshmipur were injured in shooting by law enforcers.
New Age Magura correspondent reported that BNP activist Mashiar Rahman, 40, was shot dead by police at Salikha upazila.
The victim's family said that the police picked up Mashiar and another activist from a tea stall at Chayghariya Bazar and shot Mashiar to death.
Doctors said that Mashiar, Chayghariya ward unit BNP general secretary, received bullets in the legs and waist.
Salikha police officer-in-charge Biplab Kumar Nath claimed that police opened fire, in which Mashiar died, as Mashiar and some other pickets hurled firebomb at a police car on Sunday evening injuring five cops.
Mashiar's son Kazi Nayan said that police picked up his father and shot him to death.
Islami Chhatra Shibir activist Motiar Rahman, 24, who was injured as police opened fire on a procession of Shibir protesting against arrest of a fellow at Ranir Bandar in Dinajpur on Saturday, died in police custody on Sunday.
The death of the two on Sunday took to 95 the number of people killed in recent spate of political violence that begun on January 5.
New Age correspondent in Sylhet reported that female Secondary School Certificate examinee Sharmi Dev, who was walking inside her house, was injured as police opened fire to disperse a procession of Jatiyatabadhi Chhatra Dal at Mirabazar in the city at about 5:30pm.
Number of buses operated on long routes during daytime across the country dropped drastically on Sunday compare to the past two days, the weekend, while the capital also saw lesser number of vehicles in the streets.
Most of the schools remained closed on the first day of the fresh 72-hour hartal called by the Bangladesh Nationalist Party-led alliance in addition to the blockade to press for a fair election under a non-party caretaker administration and in protest at killing of the alliance activists in 'crossfire', repression on opposition activists, mass arrest and 'conspiracy to kill BNP chairperson Khaleda Zia'.
Seven vehicles were vandalised in Sylhet and three vehicles in Sylhet and a CNG-run three wheeler in Chittagong were set on fire.
Pickets clashed with the police at places including Sylhet, Bogra, Lakshmipur and Dinajpur on Sunday. Crude bombs were blasted at places including Gulshan, Shahbagh, Kakrail, Press Club and Bijaynagar in the capital.
Trains were running five to 15 hours behind their schedules as the authorities took taken precautions following several incidents of derailment due to the acts of sabotage. Ferry services remained unaffected by the blockade which appeared to have slackened off over the past few days. Pickets also brought out a few flash processions.
Law enforcers continued to arrest BNP and Jamaat activists across the country including over 20 in the capital, 56 in Pabna, 45 in Brahmanbaria, 11 in Rangpur, 10 in Bogra, 16 in Dinajpur, eight in Chandpur, 16 in Chittagong.
A youth was injured as a crude bomb exploded in Khilgaon Railgate area.
The victim, Md Kabir Hossain, 30, was rushed to Dhaka Medical College Hospital.
Two youths were injured when crude bombs went off in Shahbagh intersection at evening.
Three crude bombs went off in Kazi Nazrul Islam Avenue in the capital.
The police arrested a Juba Dal activist at Farmgate. Tejgaon police inspector Moshiur Rahman claimed that they recovered two petrol and four crudes bombs from his possession from Kazipara.
The Detective Branch of police arrested four Jamaat activists at Uttara and recovered eight crude bombs.
A SP paribahan bus was set on fire near Ruposhi Bangla Hotel at about 7:30am. Miscreants hurled crude bomb at a bus in Mouchak intersection.
Four Crude bombs were also hurled at Farmgate intersection.
A police van was targeted by crude bomb in Khilgaon intersection.
A private car was set on fire near Paribagh over bridge at about 7:00pm while another bus was set on fire near Nabisco intersection at evening, said police.
The city traffic was almost usual with less number of private cars plying on the streets.
Witnesses said a group of Shibir men attacked two human haulers carrying cops when the vehicles reached at Sheikhghat at about 7:00am.
A constable of Sylhet Kotwali police station and the driver of one of the human haulers sustained injuries as the front glasses of the vehicles were broken in the attack, a witness said.
In Lakshmipur, at least seven Shibir men were injured in a clash with the police in Miar Rastar Matha area on Sunday morning.
Seven people were injured during the clash while one received bullet wounds.
In Chittagong, a truck helper suffered burn injuries as miscreants hurled a petrol bomb at his husk-laden truck on the Dhaka­-Chittagong highway at Mirsarai upazila of Chittagong on early Sunday.
Source: New Age