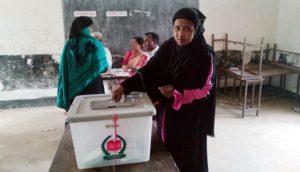 Elections to upazila parishads ended amid violence and rigging and boycott by opposition parties as the fifth and last phase of the elections in 23 upazilas on Tuesday were marked by violence, vote rigging, low turnout of voters.
Like the previous four phases of the elections, in most upazilas ruling Awami League candidates contested against rebels on Tuesday amid low turnout of voters and boycott by opposition political parties.
In the last phase, four AL chairman candidates were elected uncontested taking to 112 the number of AL chairman candidates elected unopposed in the elections to 486 of the 491 upazilas, Election Commission officials said.
The Bangladesh Nationalist Party and its allies, left parties and Islamist parties boycotted the polls protesting against 'fraud' and 'flaws' that marred the December 30 general election.
For the first time in the country, the candidates in the upazila elections were nominated by political parties and they used their party electoral symbols.
The turnout of voters was so low in Tuesday's election that the candidates' campaigners, especially the AL activists, had to use public announcement systems of different mosques to call the voters to come to the polling stations to at Bandar upazila of Narayanganj.
Election Commission secretary Md Alamgir told reporters at his office in Nirbachan Bhaban in Dhaka after the polling that barring a few incidents, the last phase of upazila elections were fair.
He said that 'wicked people' tried to commit violence but failed.
New Age correspondents reported that a number of chairman contestants boycotted the polls halfway through protesting against irregularities.
In this phase, no voting was held in three upazials – Cumilla Adarsha Sadar, Cumilla Sadar South and Banchharampur – as all the representatives were elected uncontested there. AL-backed chairman candidate for Narayanganj Bandar upazila was also elected uncontested.
New Age correspondent in Narayanganj reported that as there was very low turnout at Bandar upazila, the campaigners of the candidates, especially the local AL activists, used public announcement system of mosques in the afternoon to call the voters to cast their vote.
Election officials at most of the polling stations said that only 30-40 votes were cast between 9:00am and 3:00pm and there was almost no enthusiasm regarding the elections as the AL candidate MA Rashid was elected chairman uncontested.
District superintendent of police Harunur Rashid said that there was no pressure on voters to come to the polling centres to cast their votes. 'But, many did not come for excessive heat.'
In Rajbari, AL chairman candidate Kazi Saiful Islam at Kalukhali upazila at a press conference at his house at Machhbari at about 10:00am, announced that he boycotted the election and appealed to the returning officer to stop the polling.
Saiful alleged that the supporters of independent candidate Aliuzzaman Tito attacked his supporters and their homes on Monday night and Tuesday morning and even his polling agents were ousted from the polling booths in the morning.
Aliuzzaman denied the allegation.
The district election officer and returning officer Md Habibur Rahman said that he received an application from Saiful to stop the polling and informed higher authorities.
In Gazipur, independent candidate for Gazipur Sadar upazila Md Ijadur Rahman Milon Chowdhury at a press conference at about 11:00am boycotted the election alleging that all his polling agents were ousted from the polling stations by supporters of AL backed candidate Rina Parvin and he got no remedy from the officials concerned.
Rina Parvin denied the allegation.
Returning officer Md Abu Nasar Uddin said that he got not allegation.
New Age correspondent in Brahmanbaria reported that a group of attackers, allegedly AL supporters, attacked the house of independent chairman candidate for Bijoynagar upazlia Nasima Lutfor Rahman at Haldarpara in Brahmanbaria Tuesday afternoon.
The attackers vandalised two Prado jeeps, one car and a number of motorcycles and set fire to one motorcycle.
Nasima alleged that AL candidate Tanvir Bhuiyan's supporter attack her house.
New Age correspondent in Sirajganj reported that AL activists allegedly forced a number of voters to cast their votes in favour of AL candidate Abdul Matian Chowdhury and even beat the voters who denied casting vote for them at Kamarkhand upazila. They allegedly rigged votes for AL candidate.
At Choubari Islamia High School polling station, at least 10 people, including assistant public prosecutor Rezaul Karim Bhutu, Khairul Alam and Jahurul Islam were injured as AL activists beat and hacked them for denying to cast vote for AL, election officials and voters alleged.
Only 359 of the 3,114 votes were cast in four hours and a half until 1:30pm at the polling station, presiding officer SM Sanjid Ahammed said.
According to New Age correspondents and commission officials, ruling Awami League candidates were leading in the polls as the complete results of the polls were not available till 9:30pm.
Elections were held in 81 upazilas in 12 districts in the first phase on March 10, in 138 upazilas in 16 districts in the second phase on 18 March, in 122 upazilas of 25 districts on March 24 in the third phase and in 107 upazilas of 22 districts on March 31 in the fourth phase.
Elections in five upazilas were held earlier at different times as the tenures of those upazila parishads were completed, commission officials said.
In the elections to the 463 upazila parishads in the first four phases, more than 95 per cent of the chairmen were elected from the Awami League either nominated by the party or contested as rebel candidates, according to the unofficial results compiled by the commission officials.
In the previous four phases, 131 independent candidates, mostly AL rebels, were elected defeating AL candidates. Besides, 298 AL chairman candidates won the elections while 108 of them were elected uncontested.
The BNP has expelled a good number of its grassroots leaders for contesting the upazila polls violating the party decision for boycotting the elections under the incumbent government.
Source: New Age.