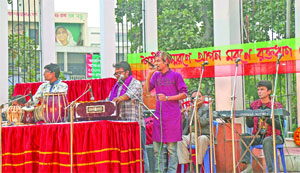 The three-day cultural conference of Bangladesh Udichi Shilpi Gosthi at the Central Shaheed Minar in the city concluded on 19 December.
With a folk song by Jhuton Chandra Majumder, the closing session of the conference set in motion. Later on, different units of Udichi including Chittagong University and Jagannath University troupes performed two superb dance performances on the occasion.
Artistes from Gaibandha, Cox's Bazar, Gazipur, Narayanganj and Narail units also staged unique performances.
With the slogan Shaheed Smarane Apon Morone, Rokto Rin Shodh Kor, Shodh Kor, the conference was opened on 17 December, the day after Victory.
Eminent folk singer of the greater Chittagong region Amanullah Gayen inaugurated the conference. In course of the inaugural session, a discussion meeting was held at the same venue with Udichi president and eminent cultural personality Kamal Lohani in the chair.
Bangladesh Udichi Shilpigoshthi is the largest cultural organisation in Bangladesh. Its goal is to struggle to build what it deems a just, free, and equal society. At the outset of the Bangladesh Liberation War, members of Udichi Shilpigoshthi  joined the war of independence. In 2013, the organisation was awarded the Ekushey Padak, the country's most prestigious award.
Source: Weekly Holiday