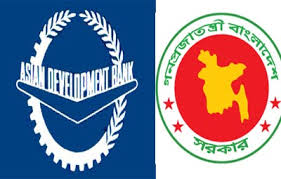 The government on Sunday signed agreements with the Asian Development Bank (ADB) for $82 million in loans and $12 million in grants to protect coastal towns from natural disasters and climate change.
Economic Relations Division (ERD) Joint Secretary Saifuddin Ahmed and Country Director of ADB's Bangladesh Resident Mission Kazuhiko Higuchi signed the deals on behalf of their respective sides at a ceremony at ERD in city's Sher-e-Bangla Nagar.
The assistance will support eight vulnerable secondary coastal towns in building up their climate resilience and disaster preparedness.
The towns are Amtali, Galachipa, Mathbaria, Pirojpur, Barguna, Bhola, Daulat Khan, and Kalapara, which have been selected based on their needs, population size and density, and the level of past investments.
Of the $82 million ADB loan, $52 million is from the concessional Asian Development Fund (ADF) resources while the rest $30 million from the ADB Strategic Climate Fund (SCF).
The ADF loan will have a 25-year term, including a grace period of 5 years, and an interest rate of 2.0 percent per annum during the grace period and thereafter, while the ADB-SCF loan to have a 40-year term, including a grace period of 10 years and an annual service charge of 0.10 percent.
The ADB-SCF is also providing $10.4 million in grant for the project. The Sanitation Financing Partnership Trust Fund (the Bill & Melinda Gates Foundation) under the Water Financing Partnership Facility will provide another grant equivalent to $1.6 million.
The government will provide $23.1 million equivalent for the project. The project is estimated to cost a total of $117.1 million, and scheduled to be completed by 2020.
The Ministry of Local Government, Rural Development and Cooperatives (MLGRDC) acting through its Local Government Engineering Department (LGED) and the Department of Public Health Engineering (DPHE) will be the Executing Agencies for the project.
"The project supports towns in need of assistance as identified under the government's Coastal Development Strategy and Strategic Program for Climate Resilience," said Country Director Kazuhiko Higuchi.
He further said, "The support will be in two stages — for infrastructure required for climate resilience, and economic infrastructure; the pace of these supports will be aligned with the progress in various municipal planning and services."
The project takes a holistic and integrated approach to urban development. It will help improve drainage, water supply, sanitation, cyclone shelters, and other municipal infrastructure including emergency access roads and bridges, solid waste management, bus terminals, slum improvements, boat landings, and markets.
Source: UNBConnect