Sharif A. Mukul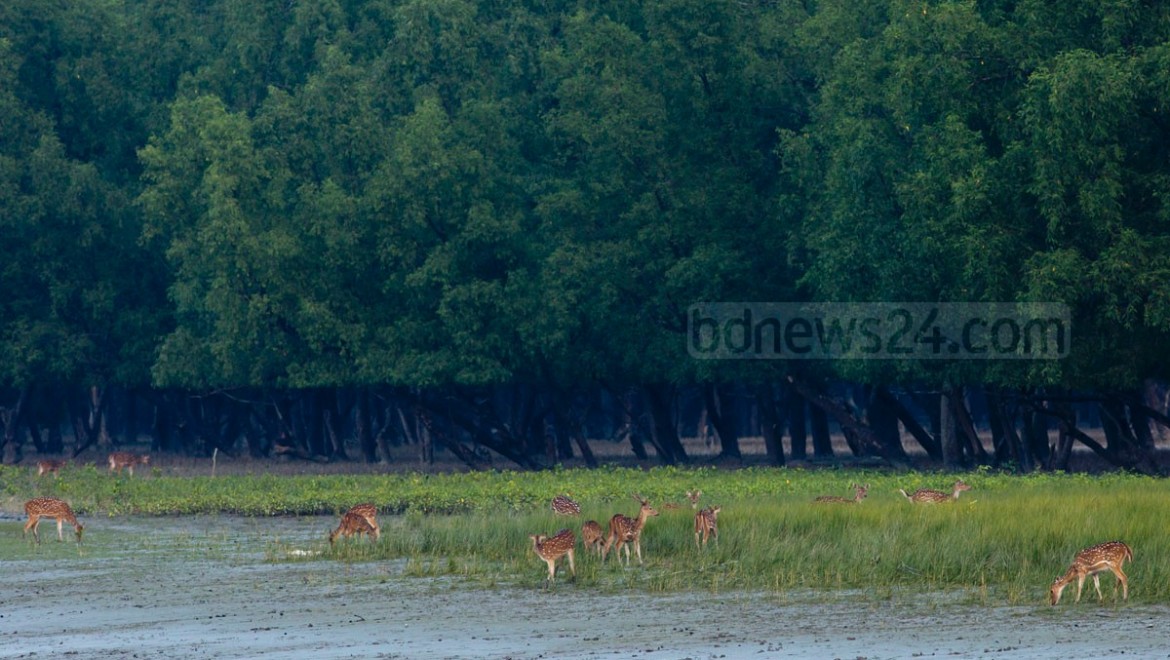 The Sundarbans is the world's largest mangrove forest shared between Bangladesh and India and situated on the lower Ganges-Brahmaputra delta, world's second largest watershed system.
The Bangladesh Sundarbans (Figure 1), spanning over 6000 square kilometres in the coastal Bangladesh, covers nearly 60% of the total Sundarbans. It is one of the largest remaining wild habitats of Bengal tiger (Panthera tigris) and the last stronghold of tiger adapted to living in mangrove ecosystems.
Apart from its status as a reserved forest, it is also a UNESCO designated world heritage site and a tiger conservation landscape of global priority. Three wildlife sanctuaries cover nearly 23 percent of the Bangladesh Sundarbans. About 30 percent of the Sundarbans is comprised by waterbodies and are inundated regularly by tidal flooding.
The Bangladesh Sundarbans represents more than 4 percent of the total landmass of the country, about 40 percent of the forest area of Bangladesh and more than 50 percent carbon stored in forest ecosystems in the country. It is a major source of livelihood to nearly 4 millions of people living in coastal areas of Bangladesh. At least 334 species of plants, 49 mammals, 59 reptiles, 8 amphibians and 315 bird species have already been recorded from the Bangladesh Sundarbans. It is one of the last remaining habitats to the globally important marsh crocodile, Irrawaddy, and Ganges dolphins in the country. The Sundarbans also act as a natural barrier during the landfall of the tropical cyclones originated in the Bay of Bengal during the monsoon.
Sundarbans is already threatened by changing global climate and sea level rise. The top dying of Sundri (Heritiera fomes) has long been an issue in the area. Recent studies suggest changes in the salinity and sedimentation in the area that further exacerbated by changes in vegetation and suitable habitats for Bengal tiger and other wildlife in the area.
The development of 1,320 megawatts Rampal Power Plant in close proximity to the Sundarbans will have a detrimental effect on its unique ecosystem. The plant will require about 13,000 tons of coal per day and will release an estimated 7.9 million tons of carbon dioxide, 52 thousand tons of sulfur dioxide and 31 thousand tons of nitrous oxide into the atmosphere every year. Additionally, increased traffic through water channels within Sundarbans for coal transportation will intensify of disturbances to its unique wildlife and likelihood of accidents.
It is only two years since we experienced the devastating oil spills in the Shela River in Sundarbans. A development project of such extent likely to also attract other projects in the area thereby large movements of humans, increased illegal forest activities, forest clearance for settlement, fuelwood collection etc. It is quite obvious that modern day technology can reduce emissions of harmful smoke, small particles, and heavy metals from this kind of plant. However, this facility cannot guarantee us that anything unexpected will happen near Sundarbans in the future. The effect of it will be irreversible on Sundarbans unique ecosystem and it is our responsibility to save this unique ecosystem for the sake of our future generation.
Source: bdnews24