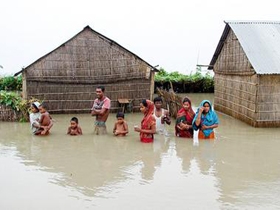 We may yet be thankful in the capital for the extended monsoon, the bewitching beauty it bestows on even an unmitigated mess like Dhaka in between the most sapping days of summer. But the continued rainfall has wreaked havoc on the rest of the country, especially in the country's north, where the bulk of the 40,000 hectares of Bangladeshi farmland currently submerged happen to be.There are those who will point out that life in the world's largest delta, plus all the attendant ills of being one of the least-developed countries of the world, confines us to a very limited space in terms of our options. Floods are an annual fixture in the life of Bangladeshis.  Another low-lying country like ours, the Netherlands, has famously beaten the dangers of geography on their way to establishing one of the world's most advanced societies in a corner of Western Europe. Yet that is a world away from our location in the eastern fringe of the South Asia – a regional construct of the era of colonialism, in which the Dutch capitalists partook with particular gusto. The illegal spoils of that phase accruing to the treasury of the Dutch kingdom were put in motion over years towards erecting a flood defence system that has proven effective and durable over time. So it makes sense that in trying to devise some way out of this debilitating condition, the government of Bangladesh is engaging their counterparts in the Hague – where the Dutch government sits.
The Bangladesh government's Delta Plan 2100 -combination of water governance, interactive analyses and design, and adaptive delta management – will be written over the next 2.5 years by a Dutch–Bangladeshi consortium of government departments, research organisations and engineering consultants. The Netherlands has pledged an initial €7 million ($9.7 million) to develop the strategy. "Having the Netherlands and their invaluable treasure of experience on board is a big push for our flood-defence efforts," says Shamsul Alam, head of the general economics division of Bangladesh's planning ministry, which coordinates the Delta Plan.
Previous efforts at flood defence in Bangladesh have not solved the problems. In 1990, the first flood action plan called for barriers to be built along main rivers: in less than 10 years, some 3,500 kilometres of embankments sprang up. In 2000, the country's focus shifted towards constructing more storm shelters and improving warning systems — but even so, about three-quarters of Bangladesh's population remains exposed to severe flooding. Figures from different government sources at district level estimated around 700,000 people have been marooned under 10 districts (Kurigram, Gaibandha, Lalmonirhat, Sirajganj, Bogra, Rangpur, Jamalpur, Nilphamari, Bhola and Sherpur) and 816,000 affected. On Tuesday an official at the Flood Forecasting and Warning Centre told Reuters the situation in Dhaka will only worsen in the next few days.
Source: UNB.com.bd