Cold storage operators said between 15 and 20 lakh tonnes of potato will remain unsold by the end of the year because of sluggish demand for the vegetable.
Farmers and traders have preserved 53 lakh tonnes of the tuber in the cold storages this year, up 32 percent year-on-year.
Only 10 percent of the tuber has been marketed since cold storage operators started releasing potato, according to the Bangladesh Cold Storage Association (BCSA).
"This is very frustrating and alarming," said BCSA President Md Mosharaf Hossain, adding that the pace of marketing of potato has been slow for the last one month.
Only four months remain before the next harvesting season, and at the current pace, huge amounts of potato will become surplus, said the BCSA, an association of nearly 400 cold storages.
The concern comes as prices rose 28 percent to Tk 20-25 a kg in Dhaka city compared to the prices a month ago, according to data from the Trading Corporation of Bangladesh.
"Yet, the price increase is less than storage and others costs," Hossain said, adding that the landed cost for potato at storages is Tk 1,300-1,400 for each 80 kilogram bag.
In contrast, potatoes are sold at Tk 850-1,000 each bag at the cold storage gates.
The price gap between cold storage gates and the retail level remains high as retailers sell potato by adding their operational costs, wastages and profits, Hossain said.
The storing capacity has increased this year compared with last year and farmers and traders have stored more potatoes upon expectation of making higher profit during the lean season, according to the BCSA.
The association estimates potato production was about 1 crore tonnes last season; Bangladesh Bureau of Statistics (BBS) is yet to finalise the production figures for fiscal 2016-17.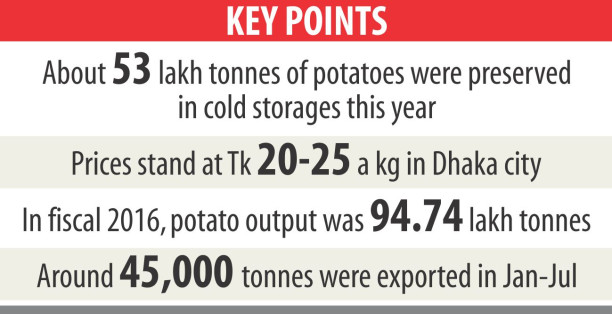 In fiscal 2015-16, potato output was 94.74 lakh tonnes, according to BBS. With demand for the vegetable remaining low, 45,000 tonnes of potato were exported in the first seven months of 2017, BCSA said.
"Under the circumstances, we want the government to take initiatives to boost the export and consumption of potatoes domestically," Hossain said.
The BCSA even wrote to the Prime Minister's Office, food, disaster management, agriculture and commerce ministries last month for distributing potato as relief among flood-affected people as well for social safety net programmes.
"This will be helpful in clearing stored potato in cold storages. Farmers will be benefitted, while cold storage owners will be able to repay bank loans. Otherwise, the production of potato will go down next year," the BCSA said.
Source: The Daily Star