An inquiry into the technical glitch on the prime minister's aircraft has found that negligence of Biman Bangladesh Airlines officials has caused it.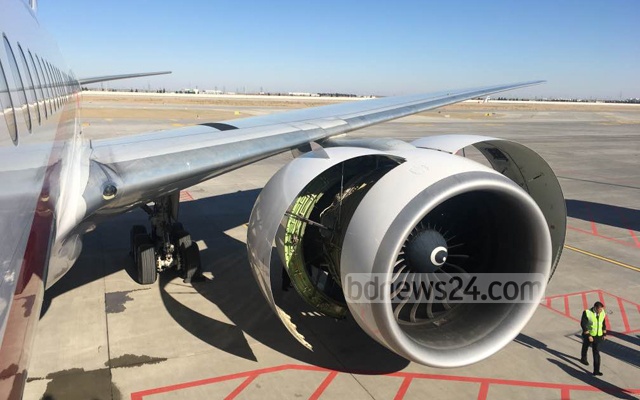 Six of its officials have been suspended over the incident, the flag carrier said in a statement on Wednesday.
While revealing the initial findings to the media, Civil Aviation Minister Rashed Khan Menon said that 'human failure' has been identified as the key factor.
"The (Biman) management said that five or more officials will be suspended over the human failure factor," he told reporters at his office on Wednesday.
Twenty minutes later, Biman issued a statement suspending six officials.
They are engineering department's SM Rokonuzzaman, Samiul Haque, Lutfur Rahman, Milon Chandra Biswas, Zakir Hossain and Technical Officer Siddiqur Rahman.
On Sunday, the prime minister and her entourage had to spend four hours in Turkmenistan on their way to Hungary after the Biman aircraft carrying them made an emergency landing at the Ashgabat International Airport.
The civil aviation ministry, Civil Aviation Authority, Bangladesh (CAAB), and Biman had formed three committees to investigate the incident.
Minister Menon presented the Biman investigation report before journalists at the press conference.
He said the faults occurred after 'nuts at the fuel line of the plane had loosened'.
"The Biman chairman said three factors were considered – whether it was a technical glitch, or environmental issue (like extreme cold or storm) or whether human factor was involved," Menon said.
"They have identified human failure factor as the key reason," he added.
The minister had vowed to identify those responsible for the incident and take action against them before the prime minister's return. Hasina left Budapest for Dhaka at 3:15pm (BdST). She is likely to reach around midnight.
"It's only a preliminary report. In cases of VVIP, the aircraft is handed over to the security personnel a day earlier. Particularly those who were in charge at that time (of handover) have faced action. It will be clear who were particularly responsible once we get the full report," Menon said.
Asked how he, as a minister, is seeing the faults in the prime minister's flight, Menon said, "It's naturally a proof of Biman's inefficiency. Efforts to improve Biman's skill are always there."
"We (government) will sit and discuss," the minister said in reply to a query as to whether Biman would be overhauled.
He also said it was 'natural' that Biman would face a crisis of public confidence because of such an incident. "We will do whatever is needed to run Biman properly," he said.
"Biman's SOP (Standard Operating Procedure) for travel of VVIPs will be reviewed. Changes will be made if necessary."
He also criticised the law made by the 2007-'08 caretaker government on Biman. "It's neither a company, nor government," he said.
"The ministry's control is up to the level as much as they inform us, nothing more than that."
"Our secretary is in the board. We talk about whatever he gets from the board," he added.
Civil Aviation Secretary SM Golam Faruk was also present at the conference.
Source: bdnews24