This regime has no right to place budget, she says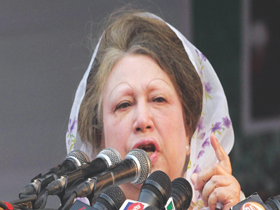 Renewing her demand for a fresh national election under a non-party administration, BNP chairperson Khaleda Zia on Saturday warned that if the government makes delay in doing so, the situation may spin out of control anytime.
"There's still time …be careful and hold a fresh election under a non-party caretaker government. If you buy too much time in doing so, the situation may go out of control," she told a protest rally of lawyers.
Being barred by the police from holding its protest rally on the Supreme Court premises, Jatiyatabadi Ainjibi Forum arranged the programme at the Jatiya Press Club protesting police obstruction.
Khaleda who was scheduled to address the lawyers' programme on the Supreme Court premises, she later went to the Jatiya Press Club at 12.15 pm and join the protest rally.
Criticising the government for obstructing BNP's rally on Thursday and also today (Saturday), Khaleda asked the government not to do excesses as it would not bring anything good for it.
"The current illegal regime has lost the ground beneath its feet and got isolated. So, they're not allowing holding our peaceful programmes. The government is sticking to office with the force of arms and depending on police and Rab. This situation can't continue for long," the BNP chief said.
Terming the current regime a weak one, she said the government gets panicked hearing the name of BNP's programme as people get scared hearing the name of Rab.
"We're yet to wage our movement. The government has got scared with our peaceful programmes…Many people ask why BNP is not waging a movement. We'll announce our programme in time. The rot set in the current regime. They (govt) have no value to people. We're now giving them time to rot even more. When they'll get decomposed, we'll announce our programme," the former Prime Minister said.
She urged her party followers to have patience to see that the ruling party men, now holding illegal arms, will surrender to people when they, vexed at the misrule of the current regime, will take to the streets.
The BNP chief said there will be a painful and disgraceful exit of the current regime as it killed many people and made many of them disappeared.
Referring to the killing of ruling party-backed Fulgazi upazila chairman in Feni, Khaleda said, "They (AL men) are indulging in killing each other over sharing of money. There's a justice of Allah. They'll fall down in such a way that they won't be able to recover."
She demanded the government arrest Joynal Hazari and Nizam Hazari and remand them for their reported involvement in the murder.
Khaleda branded the current regime as an illegal one, and said it has no right to place national budget.
"The current parliament has no public representatives. Around 154 MPs are not elected, and the Speaker and the name-only opposition leader are also not elected. This is an illegal regime. It has no right to place budget. They must be made accountable for it one day," the BNP chief observed.
Khaleda alleged that the government is running after her and making various plots to put her into a trap as she is with people and raising her voice to establish their rights. "I don't care it. I don't fear any one except Allah."
The former Prime Minister demanded revival of the 15 cases filed against Prime Minister Sheikh Hasina that were withdrawn by the government.
"Four false cases had been filed against me. Fifteen cases had also been filed against Sheikh Hasina that were withdrawn. If the trial of my cases can go on why there should be an exception to hers. These cases must be revived. Being Prime Minister you would withdraw cases against you, it can't be justified."
Accusing the government of using Rab in killing, abducting and making opposition leaders and activists disappeared, Khaleda warned that the current Prime Minister must face trial for this one day.
She alleged that the arrested three Rab officials in Narayanganj seven- murder case have been kept in jail under son-in-law's hospitality lest they reveal government high-ups' hands in the killings if pressure is created on them."
Khaleda regretted that there is no rule of law, democracy and good governance in the country.  "There're two systems of trial now in the country — one for ruling party men and another for common people and the opposition men. Opposition leaders and activists and common people are being punished for committing no crime, while ruling party men are roaming around despite their involvement in killing, looting and corruption."
Khaleda also reiterated her demand for disbanding Rab saying this force is now realising ransom, killing people and making them disappeared. "Rab is now a name of horror to the country's people."
The BNP chairperson lamented that the country's image has badly being dented across the globe for continuing killing, abduction and forced disappearance.
Earlier in the day, police barred the lawyers from entering the Supreme Court (SC) premises to hold their rally called protesting the killing of Narayanganj lawyer Chandan Sarker and six other people after their abductions last month.
Police blocked the lawyers' way into the Supreme Court premises by locking its three gates.
To make the programme a success by any means, the lawyers thronged the Mazar Gate in the court area in the morning.
Police also arrested 13 lawyers as they tried to bring out a procession in the area.
On Friday night, police dismantled a podium the lawyers erected to hold the rally.
Source: UNBConnect