Protesting the attack, Shibir has called a half-day hartal in Rajshahi, Natore, Chapainawabganj districts for Tuesday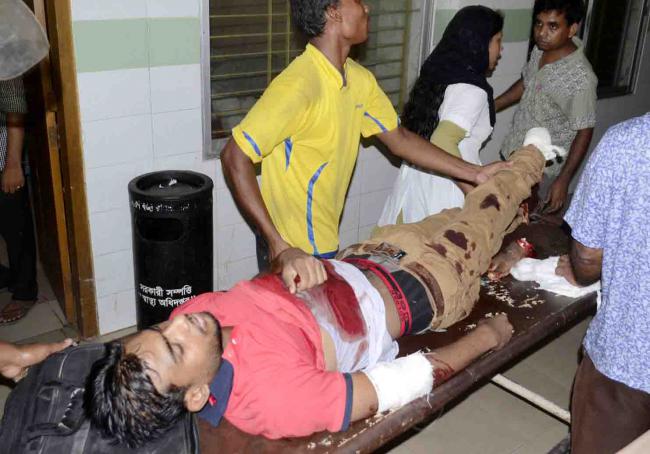 Unidentified miscreants have cut the leg of a Chhatra Shibir leader off at the Rajshahi University campus on Monday afternoon.
The victim, Russel Alam, 24, is a fourth year student of Finance and Banking Department and, also the general secretary of Nawab Abdul Latif Hall unit Shibir.
Witnesses said a gang of miscreants caught Russel around 3:45pm while he was roaming around the Shahidullah Arts Building area and took him behind the building.
At one stage, they hacked the Shibir leader, cut his right leg off and fled the place.
Later, police rescued critically injured Russel and admitted him at Rajshahi Medical College Hospital.
Motihar police station Officer-in-Charge Alamgir Hossain said: "A team of police went to the Shahidullah Arts building at 3:45pm in order to arrest a Shibir leader, who was wanted in more than 50 cases.
On their way back to the police station, the police members heard the sound of firing and rushed to the building again. They found critically injured Russel and took him to RMCH," he added.
The on-duty doctors at RMCH said Russel bore several injury marks in his chest, right hand and right leg. But, they did not find any injuries by bullets in his body.
However, witnesses said the miscreants, probably RU unit Chhatra League members, shot Russel in his chest.
Labib Abdullah, publicity secretary of RU unit Shibir, has claimed that the BCL activists led by its RU unit general secretary SM Tawhid Al Hossain launched the attack.
However, Mizanur Rahman Rana, RU president of the BCL, denied the allegation.
Protesting the attack, Shibir has called a half-day hartal in Rajshahi, Natore and Chapainawabganj districts for Tuesday, said Labib.
The shut down will be enforced from 6am to 2pm.
Source: Dhaka Tribune