Activists of Juba League have fought among themselves at the very event where Awami League leaders dubbed the party's youth wing as 'best political organisation' for youths.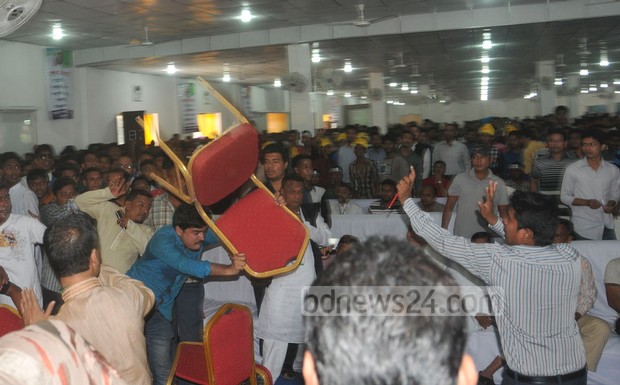 The leaders had also criticised the media for what they said spreading propagandas against Juba League.
But they failed to calm the disorganised and agitated activists at the programme organised at a convention centre in Chittagong city to mark Juba League's 42nd founding anniversary on Saturday.
Ruling party's youth front Chairman Omar Faruk Chowdhury while addressing the programme though mentioned about the fracas, it was in a different context.
Praising his organisation's activities, he said, "This programme is a success. But they (mass media) will only report about the slight pushing and shoving that have taken place."
"I think criticism is just another way of praising. But they (media) will only report the negativities, not the achievements. Negative incidents are news to them, not the positive ones," he said, criticising several newspapers.
Organisation's leaders had a tough time controlling the activists since the programme started at Saturday noon.
Supporters of different leaders fought among themselves, threw chairs at each other and broke a glass door of the convention centre right in front of the journalists.
At the beginning of the event, leaders and activists of several Juba League units of the port city entered the venue.
The tussle first started among them following heated arguments over placing of their respective banners beside the main stage.
The Juba League chief and several leaders of the Chittagong metropolitan unit intervened at the time to calm the situation.
Later, supporters of various leaders went on raising slogans and counter slogans making it impossible to even hear the addresses of the leaders of the organisation.
Several leaders tried to calm the activists and lower the volume of the slogans during their speeches, but in vain.
Even the programme's chief guest, Awami League General Secretary Syed Ashraful Islam had to abruptly stop his speech due to the din. He, however, resumed when the slogans stopped.
Mentioning the history behind the organisation's foundation, he said, "Over the years, Juba League has become the best organisation for Bangladesh's youths."
After the programme ended, as Ashraf was leaving the venue, nearly 1,000 leaders and activists tried to rush out trailing him. In the process, a glass door of the centre was broken.
Earlier in the morning, processions and vehicles of thousands of Juba League supporters coming to attend the programme caused a huge traffic jam at the city's GEC intersection.
Source: bdnews24