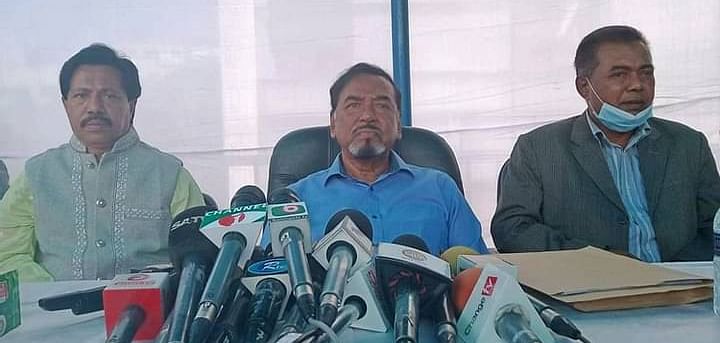 BNP vice chairman Maj (retd) Hafiz Uddin Ahmed has said that he was astonished at receiving a show-cause notice.
He said the party's senior joint secretary general Ruhul Kabir Rizvi had violated all protocol and decorum by issuing this notice based on false information.
Hafiz Uddin was speaking at a press briefing held today, Saturday, at his residence in Banani of the capital city.
Angered at the show-cause notice, Hafiz Uddin Ahmed said that at the request of the party leaders and activists, he had decided not to resign at the moment.
He further said he had replied to the notice before the press briefing. The party vice chairman said, he will take his decision after seeing whether the party was satisfied with this explanation or not.
He also explained his stand during the time of the military-backed caretaker government.
BNP leader Hafiz said, "I have been associated with BNP politics for 29 years. The letter signed by Ruhul Kabir Rizvi is filled with errors including the date of my joining, the date I was made vice chairman, the spelling of my name and more."
Hafiz Uddin Ahmed went on to say, certain quarters within BNP were actively trying to alienate the freedom fighters in the party.
He also highlighted certain recommendations including holding the party's national council in March and investigating financial corruption at various levels in forming the committees and in giving nominations.
On 14 December, Hafiz Uddin Ahmed and Shawkat Mahmud had taken part in a discussion programme of the Sammiloto Peshajibi Parishad, a platform of professionals. After the event, a group of BNP leaders and activists had taken out an anti-government procession, later dispersed by police action.
BNP central office sources said that Shawkat Mahmud on Wednesday night replied to the notice, saying he had not knowingly been involved in any activity outside of the party's ideology or in violation of party decision. He apologised if he had unintentionally got involved in any such activity.