REHAB could be involved in building 10,000 flats in Jhilmil project, says minister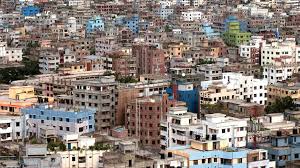 Real Estate & Housing Association of Bangladesh (REHAB) has said it wants to build 22,000 apartments in the city's Uttara and Kamrangirchar areas opposing the government plan to award the job to Malaysia.
A REHAB delegation, led by its president Mokarram Hossain Khan, on Sunday met Housing and Public Works Minister Engineer Mosharraf Hossain at his ministry office and placed the demand.
The REHAB president requested the minister to award the construction works to members of the association saying, "Now there're some 22,000 flats of its members that remain unsold. So, such foreign investment will deepen the crisis in the country's housing sector."
Mokarram also said they (local realtors) are interested to be partners of the government in construction of flats in surrounding areas of the capital and other cities.
He argued that using experts, architects, engineers and technology will be costlier and time-consuming for any foreign investors, while the REHAB members can do the job at lower costs because of their better local experience.
In response, Mosharraf Hossain suggested the REHAB delegation to meet the finance minister for his support for the overall stimulation of the housing sector saying that awarding the work for the construction work of some flats to local realtors will not solve the problem. "The problem gets intensified due to the abnormal price hike of flats," he added.
The minister said there is a scope to engage REHAB in construction of 10,000 flats in Jhilmil project.
Criticising the REHAB members, Mosharraf said, "We receive a host of complaints against you (REHAB members). We need to dispose those of."
He said ENA Properties was given the Uttara Apartment Project, but it could not complete the work. "I cancelled it (contract). Had I not cancelled it, I would have to answer even after five years."
On April 29, the government signed a Memorandum of Understanding (MoU) with Malaysia that the latter country will help construct 22,000 apartments in Dhaka and a flyover connecting Dhaka with Rajuk's Jhilmil housing project.
Under the MoU, 12,000 apartments will be built at Uttara while 10,000 at Kamrangichar.
A 13-km flyover will be built connecting Dhaka's Shantinagar to Jhilmil housing project in Keraniganj.
Source: UNBConnect