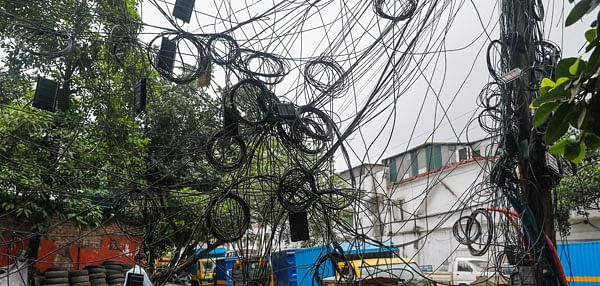 The city dwellers and the authorities might not realise how the overhead TV and internet connections cables are steadily ruining the the cityscape. In 2009, BTRC made a decision to install cables underground and Nationwide Telecommunication Transmission Network (NTTN) permitted two private organisations to perform this task. Four other private and government companies also joined in the task.
There has been no progress in taking the cables underground in more than 10 years. According to a recent report of Prothom Alo, underground wires have been installed in 6000 points in the city. This arrangement is inadequate as the city has 1 million establishments. The problem is, no other companies except those six are allowed to build the infrastructure for moving the cables underground. Yet the city corporation authorities asked the operators to move the cables, otherwise the wires will be removed. They started severing the wires and the cable TV and internet providers staged protest following this. They were promised no more cables would be severed. The service providers called off the protest, but the situation never changed.
The operator will confirm to the providers whether they will work on it. Otherwise, the providers will have to move the cables by installing optical fibre underground on their own.
Thirdly, internet service providers will pay the NTTN operators for using their underground optical fibres. The amount to be paid will be decided through talks among the parties.
We think that the first decision must be implemented and that steps should be taken now. But the second decision is unreasonable as the internet service provider will have to remove the cables if the NTTN operator does not, which will allow NTTN operators to avoid this task. They already are not happy about the job, because it requires a lot of investment. For the same reason, Internet service providers will continue to provide wired connections through overhead cables to avoid additional costs. An unequivocal decision should be taken in this regard.
The construction of underground wiring infrastructure should be in the hands of licensed NTTN operators only and they should be given a time frame to complete the work. Third, the cost of using underground connectivity infrastructure should be determined by the government because the two sides will not be able reach an agreement among themselves.