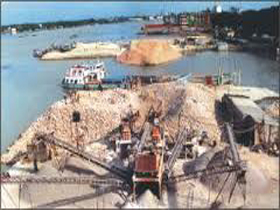 Protesters at a human chain programme on Friday demanded that the government take action against the top officials of Bangladesh Inland Water Transport Authority (BIWTA) for leasing out banks of different rivers around Dhaka city.
A number of social right organisations, including Nou-Sarak-Railkhat Raksha Jatiya Committee (National Committee to Protect River, Road and Railway sector), Green Club of Bangladesh (GCB), Citizens Rights Movement, Unnayan Dhara Trust, Green Belt Trust, Buriganga Banchao Andolan, Nirapad Nou o Sarakpath Andolan, PEACE, Nadi Raksha Shapath, Sammilita Jaladhar Raksha Andolan, Paribesh Sammata Basjogya Dhaka Bastabayan Parishad and Nirapad Noupath Bastabayan Andolan, organised the human chain and rally in front of the National Press Club.
The protesters alleged that the BIWTA has leased out the riverbanks and foreshore of different rivers around Dhaka city including the Buriganga, Shitalakhya, Turag and Balu, defying a High Court verdict and the decision of inter-ministerial taskforce on rivers.
Addressing the programme organniosed on the occasion of the World Water Day 2014, the speakers said the HC verdict and the decision of the inter-ministerial taskforce on rivers prohibited any lease of the riverbanks but.
But defying the verdict, BIWTA and Narayanganj River Port Authority had leased out vast stretches of the shores of the Buriganga, Shitalakhya and Turag to different individuals and establishments.
They said the officials of BIWTA, including its chairman, should be punished as the state-owned organisation had acted against the national interest violating the HC verdict and the government decisions.
They said the illegal lease of riverside lands would continue if the officials concerned are not punished. The speakers urged the government to cancel the lease of the riverside lands and to evict the illegal occupants from the riverside lands.
Presided over by Jatiya Committee convener Ashis Kumar Dey, the rally was also addressed by Ganatantri Party general secretary Nurur Rahman Selim, Citizens' Rights Movement secretary general Tushar Rehman and Unnayan Dhara Trust member-secretary Aminur Rasul Babul.
Source: UNBConnect