Shamim Osman now accuses his aide Nur Hossain for the Narayanganj crime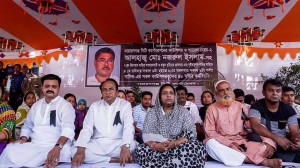 Members of the Rapid Action Battalion (RAB) were hired in exchange for Tk6 crore to abduct and kill Narayanganj City Corporation Councillor and Panel Mayor Nazrul Islam along with six others, family members alleged.
Nazrul's old foe Councillor Nur Hossain and General Secretary of Shiddhirganj Thana Awami League Yasin Mia had hired the elite force, Nazrul Islam's father-in-law Shahidul Islam brought the allegation yesterday in Narayanganj Rifle Club while talking to journalists.
Shamim Osman, parliament member of Narayonganj-4 and Selina Islam, wife of Nazrul Islam, were also present there.
When he was asked how he was sure of the involvement of RAB members Shahidul Islam said: "Several witnesses to the abduction told us. The abductors took them by two microbuses. A vehicle having a RAB-11 sticker on it was waiting there since morning the day Nazrul along with seven others were abducted."
Shahidul said they informed Shamim Osman of the abduction soon after the incident. "He told us to meet Tarique Sayeed, the CEO of the RAB-11. When we went to meet him he confined and interrogated us for several hours."
He also said they went there around 5.30pm. "They kept us waiting for several hours. At 9pm the RAB CEO told us to meet him later.
"He asked us if we have any conflict with Shamim Osman. He advised us to meet Shameem Osman. After that we met Shamim Osman at the Rifle Club."
Source: Dhaka Tribune