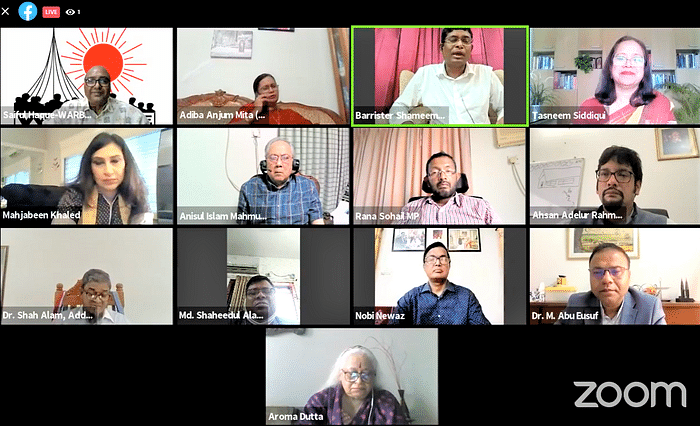 Labour migration, which is the lifeline of Bangladesh economy, has not happened in a planned manner over the years, experts observed, saying the time has come to manage the sector properly in a bid to garner more benefits from the sector.
The experts made these observations in an "Online Pre-Budget National Consultation for the FY 2021-2022 on Migrants' Welfare" on Sunday.
Bangladesh Parliamentarians' Caucus on Migration and Development, Bangladesh Civil Society for Migrants (BCSM) and WARBE Development Foundation jointly organised it on Sunday. PROKAS, British Council and Swiss Agency for Development and Cooperation supported it.
Bangladesh Parliamentarians' Caucus on Migration and Development chairperson Shameem Haider Patwary MP gave the opening remarks while secretary general Mahjabeen Khaled presented the welcome speech.
Economist and former chairman, department of development studies and also director, Research and Policy Integration for Development (RAPID), M Abu Eusuf, presented an economically analytical report with the aim of protecting migrants' welfare in the national budget.
Citing the practice of Philippines, Abu Eusuf said the country earns around USD 33 billion annually by sending only 2 million workers whereas Bangladesh earns around only USD 20 billion annually by sending over 10 million people.
While presenting his research paper, he said the labour migration has not taken place in a systematic way so far. As a result, the country is deprived of a huge amount of foreign currency, he added.
Abu Eusuf underscored the need for short, mid and long term plan. "The allocation of budget is very tiny. We have to identify areas where budget should be allocated further."
Bangladesh is now in an advantageous position of demographic dividend and so it is needed to identify priority areas where focus has to be given," he said.
While chairing the event, chairman of parliamentary standing committee on the expatriates' welfare and overseas employment ministry, Anisul Islam Mahmud MP said the labour migration has not taken place in a systemic way.
He said, "We have to carry out a global study on the demand of labour market as the demand for labour will change after the post-Covid period."
Citing the concern of social welfare ministry additional secretary Shah Alam who said training is being provided on some trades which have no demand in the job market, Anisul Islam Mahmud said skills that have no demand should be stopped.
"Rather we have to give priority on IT skills and other necessary skills which have great demand in the overseas job market," he said.
He said allocation for the migration sector has to be increased and embassies have to be strengthened with budget allocation and manpower to ensure the welfare of the migrants.
Aroma Dutta MP said the national budget has already been finalised and so the fresh demand for increasing budget allocation in the migration sector will not come to any use.
"We have to identify what type of people is needed for which country. Required skilled people have to be created accordingly," she observed.
Without any elaboration, Aroma Dutta said inter-ministerial coordination is extremely necessary.
Bangladesh ambassador in Ethiopia, Nazrul Islam, said this is the first budget of eighth five year plan. "So we have to take care so that the plans made for the migration sector are reflected in the budget."
He also said 80 per cent of remittance is spent on welfare and consumption. An initiative has to be taken so that remittance is invested in the productive, Nazrul Islam added.
Expatriates' welfare and overseas employment secretary Ahmed Munirus Saleheen said the allocation of more budgets is not the main problem in the migration sector.
He said management is the major problem as to how the labour migration can be done in an orderly manner.
Ahmed Munirus Saleheen mentioned some Tk 7 billion was made available for providing loans to migrants on low interest rate, but the migrants did not respond in that way.
While moderating the event, RUMMRU founding chair Tasneem Siddiqui said 2 per cent incentive for the migrants offered by the government has a tremendous role on the migrants to send money through the legal channel.
She said the initiative should not be stopped in any way, rather it should be raised to 4 per cent.
Former foreign secretary Shahidul Haque said there is a deficit of trust between the government and the migrant workers. As a result, the migrants are not turning up to take loans thinking that they might fall into trouble, he said.
Bangladesh ambassador to Jordan Nahida Sobhan said the budget has to be increased in the embassy beyond the labour wing. She also suggested appointing a lawyer for the embassy to look after the legal side.
RMMRU executive director CR Abrar, Shirin Lira of British Council, Anindya Dutta, Nazia Haidar of Swiss embassy, adv Hosne Ara Lutfa Dalia, MP Tanvir Shakil Joy, MP Sohail Rana, MP Ahsan Adelur Rahman, MP Adiba Anjum Mita, MP Fakhrul Imam, Roksana Yasmin Suty, Selina Jahan Lita, additional secretary of the social welfare ministry Shah Alam, finance ministry division deputy secretary Anisur Rahman, WARBE Development Foundation chairman Syed Saiful Haque and Sumaiya Islam of Bangladesh Nari Sramik Kendra, among others, participated in the event.