The opposition is floundering as Sheikh Hasina has her way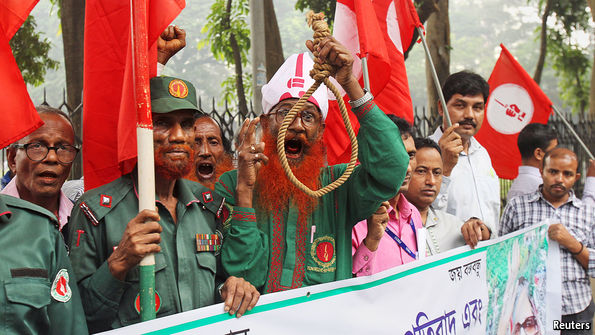 THE trapdoor that opened in Dhaka, the Bangladeshi capital, early on November 22nd not only ended, by hanging, the lives of two prominent opposition figures. It also brought nearer to a close the work of the International Crimes Tribunal, a domestic court which the prime minister, Sheikh Hasina, set up over five years ago to prosecute heinous crimes committed during the country's war of secession from Pakistan in 1971.
A proper accounting of that war's atrocities was needed. But the tribunal was flawed. It flagrantly violated defendants' rights and was susceptible to political meddling. For Sheikh Hasina, however, it has all been worthwhile. She has settled scores that date back to the struggle for independence. And she has gravely damaged the opposition Bangladesh Nationalist Party (BNP) run by her arch-enemy, Khaleda Zia.
Telling no tales
The first of the two dead men, Salauddin Quader Chowdhury, came from a well-connected family. His politician father had, before independence, acted on occasion as Pakistan's president when the strongman, Ayub Khan, was absent. Mr Chowdhury himself was close to Mrs Zia, twice prime minister, and was often seen as Bangladesh's go-between with Pakistan.
The tribunal found him guilty of charges that included, in 1971, wiping out Hindus in cahoots with the Pakistani army. Yet the trial was not fair. The prosecution was allowed to summon 41 witnesses, the defence only four. The court barred testimony from a former American ambassador, among other notables. Their affidavits claimed Mr Chowdhury was in Pakistan at the time of the alleged crimes.
The second man, Ali Ahsan Mohammad Mojaheed, was the secretary-general of an Islamist party, Jamaat-e-Islami, the BNP's partner when it was last in power—he was minister for social welfare. Mr Mojaheed was convicted of organising the murders of intellectuals and Hindus in 1971 as a senior commander of Al-Badr, a notorious paramilitary outfit that recruited from Jamaat's student wing and went after Bengali nationalists. Many Bangladeshis have welcomed the hangings. Sheikh Hasina, daughter of Bangladesh's founding father, Sheikh Mujibur Rahman, can now say that she has kept her 2009 election promise to punish those guilty of atrocities.
Meanwhile Mrs Zia (the widow of Ziaur Rahman, who rose to power after Sheikh Mujib's assassination in 1975, before his own assassination in 1981) returned this week from a stay in London. The authorities made her plane circle over Dhaka as her supporters were shooed away on the ground. Her dynasty is looking increasingly without purpose. The lady herself, though only 70, is showing signs of frailty. Her son and political heir, Tarique Rahman, is unable to return from London because of corruption charges against him from the time of his mother's kleptocratic administration. Party insiders describe a messy succession. A former leader bemoans Mr Rahman's "wide and dangerous tentacles", and the party's inability to respond to its altered circumstances. Too readily it calls out thugs to stir up violence.
Though it has strong rural support, the BNP is losing its powers of business patronage. It has no MPs, having boycotted the last election. The next one is not until 2019, and if Sheikh Hasina has her way it will, like the last, not be overseen by a caretaker government to ensure fair play. Meanwhile Sheikh Hasina's Awami League continues, just as the BNP did in power, to hound opposition politicians. Many are in jail, while others have fled or gone into hiding (Mrs Zia also faces many charges of graft). Of those left standing, some dream of a future without Mr Rahman. On November 20th Nazmul Huda, a former BNP bigwig, announced a breakaway Trinamool (or "grassroots") BNP.
The BNP's problems go beyond a tainted heir-apparent. The party appears unable to reassure India, the giant neighbour, that Bangladesh's secular traditions are safe under a future BNP government. It does not help that the BNP is reluctant to sever ties with Jamaat, which promotes a Saudi-influenced Islam (and which may soon be outlawed). Meanwhile, ties between the Awami League and India are getting ever closer. This month Bangladesh fulfilled the last in a long list of Indian demands when it handed over Anup Chetia, a separatist leader from Assam whom Bangladesh had kept in jail for 18 years as a useful bargaining chip.
Municipal elections in December may provide a fillip to the BNP. But nearly everywhere the Awami League's dominance grows. The cost to Bangladesh's democratic and legal institutions—which the country's founding was supposed to entrench—is another matter.
Source:The Economist