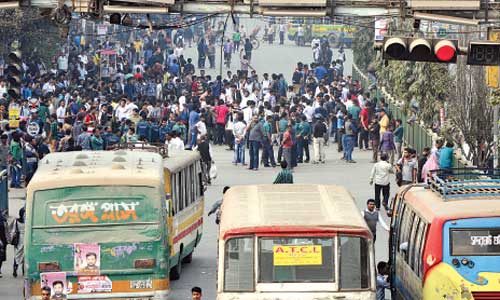 City dwellers experienced severe traffic congestion all day long on busy Sunday due to demonstrations by Dhaka City College students and operation of mobile courts at places inflicting untold sufferings to commuters.
City College principal Shahjahan Khan said thatthey closed the college for an indefinite period following the incident.
As the day was first working day of the week, flow of traffic was heavy since morning.
The students of Dhaka City College blocked Mirpur Road in front of the college demanding HSC examination centre near their college instead of Residential Model College at Mohammadpur.
The blockade caused traffic congestions while operation of mobile courts by executive magistrates of Bangladesh Road Transport Authority at Kalabagan, Motijheel, Agargaon and Khilkhet against illegal vehicles aggravated the congestions, witnesses said.
The protests and the mobile courts operations caused huge traffic gridlock almost all the day all over the city especially at key points including Dhanmondi, New Market, Azimpur, Mohammadpur, Mirpur, Farmgate, Shahbagh, Paltan, Motijheel, Moghbazaar, Mohakhali, Gulshan, Kakoli, Uttara, Khilgaon, Rampura and Karwan Bazar.
Dhanmondi police officer-in-charge Nur-e-Azam said that City College students blocked the road at 12:30pm.
The daylong demonstration stopped traffic on the busy Mirpur Road till 9:00pm.
Commuters got stuck for hours in the street because of the congestion.
Long tailback of vehicles was seen on every roads leading to Science Laboratory crossing.
A guardian who was heading to a school to pick up his children after school in the afternoon said that he was stuck near New Market for two hours.
The protesters were dispersed at about 8:30pm.
Water cannons and prison vans were parked in the area for hours but those were not used.
Police dispersed the protesters charging batons, witnesses said.
The students also vandalised two motorcycles, college buildings lift and furniture after police dispersed them from the road.
They were finally dispersed at about 9:00pm, Ramna police division deputy commissioner Jasim Uddin said.
College principal Shahjahan Khan said that the students wanted 'extra benefits' of copying during the exams that was why they were protesting at setting up their exam centre at Residential Model College.
'This is an unjust demand', he said.
Source: New Age