Arnold Zeitlin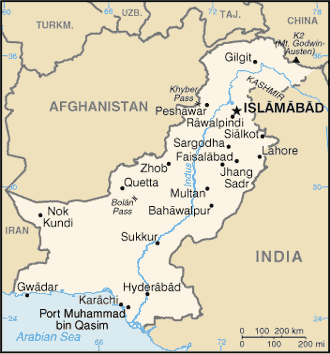 i may have glimpsed the future of pakistan — it is chilling.
the occasion came during two discussions about pakistan at washington DC think tanks. worrying about pakistan is a favorite pastime in DC among foreign policy thinkers who insist on believing that the united states can do something (but what?) to set pakistan right.
the first session was entitled pakistan: in 2015 and beyond, as divined for the international institute of strategic studies (IISS) by a young pakistani academic, dr. kiran hassan, an IISS consultant on south asia and  a ph.d in political science from the school of advanced studies at the university of london. about the future, she was so optimistic  (pakistanis are resilient, she said), she felt she had to apologize to her more jaded audience.
the second was a discussion at the woodrow wilson center for scholars by more earnest young pakistanis about  combating extremist violence by pitting civil society against uncivil society.
i came away from both sessions with the belief that this is the future:
pakistan is fated to remain a platform for the projection of power and dominance by its military. oddly, the military may need pakistan to justify its existence more than pakistan needs its military. as a result, forget all that academic and foreign policy chatter about pakistan becoming a failed state. the military simply will not allow it. it needs a pakistan perking with pliant, unchallenging, even fearful civilian rule. for that reason, pakistan will continue to lurch forward without strong civil governance.
the united states will support that condition, as it has done throughout pakistan history.
a question was raised at the IISS session suggesting the december peshawar killings that took the lives of 132 military children actually served to reinforce the authority of the military because it now operates military courts to try radical perpetrators.
as a member of the audience suggested, the military no longer needs a  coup d'etat since it now may force its way without the responsibilities of rule.
the economist, the news magazine, made a similar point when it reported this month that the afghan president, ashraf ghani, during a visit to pakistan last november "broke protocol by calling on general raheel sharif, the army chief who, more than his (unrelated) namesake and prime minister, nawaz sharif,  holds real power in pakistan."
no less an authority in pakistan than najam sethi, who with his wife, jugnu mohsin, produces from lahore the friday times, an assertive english-language weekly, described the growing power of the military as follows:
 It is General Sharif and not Mr Sharif who has abandoned the false notion of talks with the TTP and taken the war to them. It is General Sharif who has repaired relations with Kabul and Washington. It is General Sharif who is supporting Mr Sharif's bid to "normalize" relations with India and forcefully backing his efforts to compel the PPP and MQM to set Karachi and Sindh in order. It is General Sharif who has presented the National Action Plan against terrorism to Mr Sharif and it is General Sharif's corps commanders who are working with provincial governments to lend muscle to their anti-terrorism efforts. It is General Sharif who has ordered the military to shoulder the burden of trying terrorists in military courts after the civilian set-up of ATCs and HCs failed to tackle the problem. And now it is General Sharif who is arm-twisting the Afghan Taliban to open talks with Kabul with a view to bringing the civil war to an end so that the horrible chapter of American intervention can be closed.
sethi goes on to remark that  the military makes a "deliberate attempts to obfuscate" the issue of its relations with domestic jihadi groups other than the taliban because "these jihadis post no threat to the military because they are oriented to undermining india."
sethi concludes:
"it is only when general raheel sharif helps mr. sharif lay the blocks of enduring peace with india and together both agree to take religion out of….politics….that we will be able to say that a paradigm change is underway in pakistan to make it a modern nation-state."
what are the chances of that ever happening?
no wonder 28-year-old firebrand attorney, mohammed jibran nasir, figuratively throws up his hands in despair and says, "i would like to see my military commander being subordinate to my civilian commander, which is the prime minister's office….the military is not supposed to represent the aspirations of the people."
nasir  spoke via skype from pakistan to the audience at the woodrow wilson discussion on combating violence through civil society. he has leading karachi street demonstrations against sectarian violence with the reward of being arrested and jailed.
His fellow panelists insisted that there is among the 10,000 non-governmental organizations functioning in pakistan the seed to resistance to violence. a striking example of the possibility as well as the vitality of aspects of civil society was the holding — under tight security — in february of  an annual literary festival in lahore. the event attracted scholars from all over the world. it included a homage to the late indian writer, khushwant singh that served to illustrate the idiocy that devils the pakistan-indian relation. khushwant's son, rahul, a litfest guest from mubhai, was not permitted to visit his father's birth place, hadali, now part of pakistan's punjab province.
but nasir and the other discussion participants conceded that as killings continue, the outrage sparked by the peshawar killings is waning.
as a member of the woodrow wilson audience claimed, many pakistanis in the privacy of their homes are outraged but in public they will not speak out for fear of retribution.
and so pakistanis build their country's future. little or no change expected.
luv all, az
———————————————–
Arnold Zeitlin, Managing Director
Editorial Research & Reporting Associates (ERRA)
13828 Coleman Court, Centreville, Virginia 20120, U.S.A.