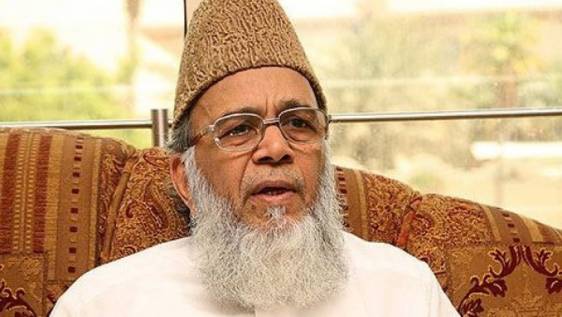 Jamaat-e-Islami Pakistan has condemned the death sentence handed down against Jamaat chief in Bangladesh Motiur Rahman Nizami in the sensational 10-truck arms smuggling case.
Syed Munawar Hasan, ameer of Jamaat e Islami Pakistan, denounced the verdict in a statement issued on Thursday, according to the official website of Pakistan Jamaat.
He also termed the verdict as politically motivated.
The Pakistan Jamaat chief has appealed to the Pakistan government and all other Muslim rulers to play their role in 'preventing this tyranny and pressurise the prime minister of Bangladesh to stop political victimisation of her opponents.'
Syed Munawar Hasan said: "The false case made out against the Bangladesh JI chief had fully exposed India which had a hand behind all political victimisation in Bangladesh."
Nizami was not named at the initial stage of the case and his name was included much later, as such the very foundation of the case was false."
On Thursday, a total of 14, including two former ministers — Lutfozzaman Babar and Motiur Rahman Nizami — of the then BNP government, have been awarded capital punishment in the 10-truck arms haul case.
On April 1, 2004, the police seized 4,930 types of sophisticated firearms, 27,020 grenades, 840 rocket launchers, 300 rockets, 2,000 grenade launchers, 6,392 magazines and 1,140,520 bullets when they were being loaded on to 10 trucks from two engine-boats at the jetty of the CUFL.
Source: Dhaka Tribune