Project cost for constructing Padma bridge has increased by Tk 3,000 crore, says finance mister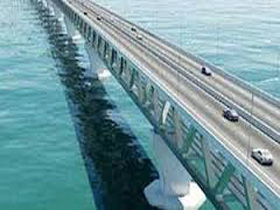 Chinese construction company China Major Bridge Engineering Limited has got the work order of the much-talked about Padma Bridge on Monday.
Communications Minister Obaidul Quader told the journalists at a press conference at his secretariat office in the afternoon.
He said: "The prime minister has approved the work order on the basis of a recommendation of the cabinet committee on public purchase. The Bridges Division has issued the work order after the ministry signed the letter of acceptance [Notification of Award]."
Earlier on May 22, the cabinet committee on public purchase, approved the Chinese firm.
After the meeting of the committee, Finance Minister AMA Muhith told the Dhaka Tribune: "China Major Bridge Engineering Co Ltd has been selected for constructing Padma bridge with the project cost having increased by Tk 3,000 crore.
The contract will be signed in June and the construction work will be completed after four years," he added.
On May 11, 2010, the government floated the first tender for appointing the constructor of the Padma bridge in 2011. At that time, the project cost was Tk 9,127.17 crore.
However, the tender process was suspended in August 2011 following allegations of corruption conspiracies raised by World Bank.
The final tender was floated on June 26 last year and the China Major Bridge submitted its main financial offer on April 24 of this year.
The Bridges Division proposal says the Chinese company has offered to build the Padma bridge at a cost of Tk12,133.39 crore – an increase of Tk3,006.22 crore from earlier.
Padma Bridge Project Director M Shafiqul Islam said the increase was normal because of the delay and re-tendering.
Source: Dhaka Tribune