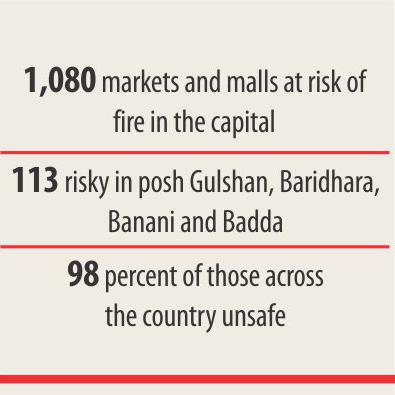 Over a thousand shopping malls and markets in the capital were built without mandatory fire-safety clearance and those are now posing a serious threat, said fire department top officials.
The extremely risky (with no fire-safety necessities) or risky (with some fire-safety measures installed) commercial establishments have been in operation for years without fire-safety clearance and licence, said Major AKM Shakil Newaz, director of Fire Service and Civil Defence, while commenting on the findings of an inspection report.
Of the 1,126 private and government-owned malls, super markets and kitchen markets the department inspected, 1,080 were found to be extremely risky or risky.
The shopping malls and markets found extremely risky or risky obviously do not have fire safety clearance and licence, said Major Shakil.
"We gave them a deadline and are going to take legal actions if they fail to install fire-safety equipment by the end of February," he said, adding, "We will go for action as per fire law and ask city corporations to cancel their trade licences."
They would also provide fire-safety training to those who would seek it.
The inspection followed an early January fire that gutted around 300 shops at a Gulshan market and caused collapse of the building.
The department has done a similar inspection across the country, he said, adding that the findings show the situation was similarly alarming with nearly 98 percent of the commercial establishments extremely risky.
In posh Gulshan, Baridhara, Banani and Badda, 79 were found extremely risky and 34 risky and only five had satisfactory (mostly compliant with some negligible lapses) safety system.
The basic fire safety facilities and installations include fire detection and alarm systems, extinguishers, hose reels with water connection, safe refuge assembly space, trained in-house fire fighting team, fire escape route, accessible road and reservoir with adequate water reserve, said Major Shakil.
With the exception of just one, all 88 malls and markets in Jatrabari, Jurain, Shyampur and Keraniganj were found extremely risky.
Only two of 104 in Paltan, Fulbaria, Gulistan, Nawabpur, Bailey Road, Bangshal, Shantinagar and Kakrail were found to have adequate safety measures and all but three out of 76 in Dhanmondi, Mohammadpur, Kalabagan and Farmgate were found risky and extremely risky.
The fire department divides Dhaka into 11 zones but in six of the zones, all shopping malls and markets, a total of 648, lacked fire-safety provisions, according to the inspection findings.
The areas where no shopping malls and markets is safe include Mirpur, Pallabi, Sheorapara, Kazipara, Rokeya Sarani, Bhashantek, Darussalam, Tejgaon, Eskaton, Moghbazar, Karwan Bazar, Uttara, Savar, Ashulia and Aminbazar, Demra, Jatrabari, Rampura, Khilgaon, Bashabo, Mirpur Road, Nilkhet, Chalkbazar, Swarighat, Mogoltuli, and Elephant Road.
In Khilkhet, Dhaka Cantonment, Kafrul and Joarsahara, the situation was a bit better with 35 of 91 having satisfactory fire safety provisions.
As to why the fire department did not take legal actions against the errant mall and market owners, Brig Gen Ali Ahmed Khan, director general of Fire Service and Civil Defence, said the department does not have magistrates of its own.
"As a result, we cannot carry out enforcement drives as required," he said, adding, "Every time, we have to wait for availability of magistrates from district administration and police force for a drive."
According to official records, in December 2015, the fire department formally requested all relevant authorities, including the city corporations, to make sure that commercial establishments maintain mandatory fire-safety provisions and obtain fire-safety licence.
It made a similar request to all district magistrates again in October for mobile court drives to ensure fire-safety in commercial establishments.
In August last year, the department issued a public notice in newspapers calling for installation of the required fire-safety equipment and provisions as per Bangladesh National Building Code and offered all sorts of support.
"But to our disappointment the response to the repeated alarm calls has been nothing mentionable," said Brig Gen Ali.
About the January Gulshan market fire, he said lack of fire-fighting equipment and other provisions, stocks of highly flammable materials, and delayed call to the fire fighters aggravated the situation.
In late June, five people, including two women, died and over 100 others were injured in a deadly fire at the 15-storey Tropical Alauddin Tower Shopping Complex in Uttara.
The fire department inspection in January this year still found the mall extremely risky.
Source: The Daily Star