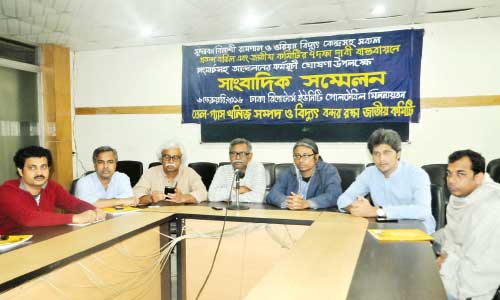 National committee to protect oil, gas, mineral resources, power and ports will hold a five-day Dhaka-Sunderbans long march in March 10-15 demanding scrapping of the plan to set up a coal-based thermal power plant at Rampal in Bagerhat.
Anu Muhammad, member secretary of the committee, on Saturday at a press conference at Dhaka Reporters Unity announcing the programme said that the power plant would be so nearer to the Sunderbans that it would destroy the forest.
The committee will hold programmes before the march to dram up support in favour of the march, Anu said.
The programmes included holding protest rallies in Dhaka and Narayanganj on February 15 and across the country on February 27.
The committee called on the government to take steps for implementing their seven-point demands including scraping of Rampal and  Orion power plant, cancellation of  unequal Production and Sharing Contracts, removing  controversial Asia Energy, strengthening Petrobangla and BAPX, implementation of Phulbari deal and cancellation of open pit method for coal extraction.
Leaders of the committee will hold views exchange with leaders of the different professional bodies from February 22 to March 5.
Leaders of the committee Kollol Mostafa, Ruhin Hossain Prince, Bazlur Rashid Firoz, Zonzyed Saki, Azizur Rahman, Bannishikha Jamali and others attended the press conference.
Source: new age