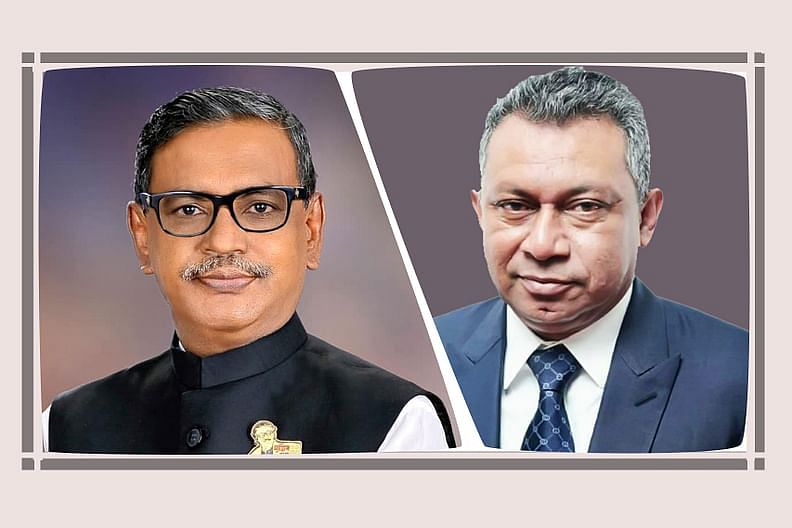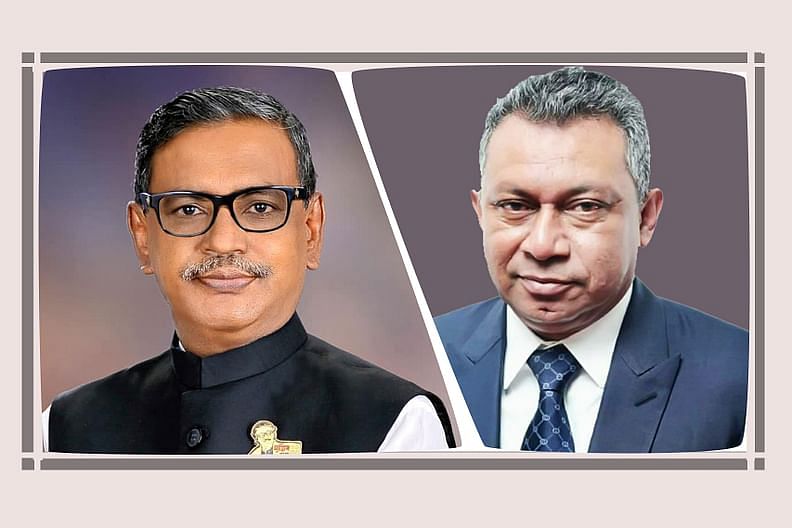 Ruling Awami League lawmaker Ekramul Karim Chowdhury has alleged that the party's general secretary and road, transport and bridges minister Obaidul Quader comes of an infamous Razakar (auxiliary force of Pakistani army during liberation war) family. Ekramul made the remarks in a short Facebook video message on Thursday.
The 27 second video, which was uploaded from the Noakhali-4 lawmaker Ekramul's Facebook account, has been making rounds on social media. The video was been removed after a short while.
Ruling party student wing Bangladesh Chhatra League and youth wing Jubo League brought out processions on Thursday night and Friday morning at the district where they chanted various slogans against Quader's brother Quader Mirza.
I won't talk against Mirza Quader, rather I would talk against Obaidul Quader. A man from a Razakar family has ascended to such a position but he can't control his brother
Ekramul Karim Chowdhury, MP, Noakhali-4
Quader Mirza, who was elected Basurhat pourashava mayor at recently held polls from Awami League, irked some sections of the ruling party by making several incendiary remarks against his party's lawmakers.
Asked about the live video, Ekramul Karim on Friday told Prothom Alo, "I've not said anything against Obaidul Quader. I said Mirza Quader's family was an anti-liberation force, but Quader bhai was a valiant freedom fighter. Quader Mirza has taken a stance against the party for the last one month, but he has not been punished."
Ekramul said Mirza Quader's uncle was a Razakar commander who was shot dead by Obaidul Quader's men. Quader's father was a Muslim League activist and his maternal grandfather was a leader of the Shanti Committee (Peace Committee that collaborated with the Pakistan army). Quader's maternal uncle was also a Razakar member. The whole family was against the liberation war. How come such a person is talking against 300 MPs but the party does not take any action?
Asked about referring to Obaidul Quader in the video, Ekramul told Prothom Alo, "Actually, I've nothing against Quader bhai. I've shown restraint for one month."
Asked what is the problem with the district Awami League committee, Ekramul said the full-fledged committee has been submitted to the central organisation five or six months ago but it is yet to get approval.
Talking with Prothom Alo on Friday afternoon, Quader Mirza refuted the allegations brought out against their family by Ekramul.
He said they heard that Obaidul Quader had died during the mass uprising of 1969 in Dhaka. But the incumbent general secretary of Awami League participated in the liberation war actively and was a commander of Mujib Bahini. Quader was later made Chhatra League's office secretary. He was incarcerated for 36 months after trying to organise Chhatra League in Dhaka University after the assassination of Bangabandhu. Quader was elected Chhtra League president while in jail and later organised Awami League and Chhatra League.
"Who was a Razakar in our family? My father was a teacher, he was not involved with any politics. My uncle Erfan Miah was a Razakar. We had a family feud with him. He even tried to kill my brother during the liberation war but he narrowly escaped. My father saved our neighboring Hindu family while they tried to loot their house and kill them. My father would protest the activities of my uncle. So, how can we be a Razakar family?" Quader Mirza laid a question.
He also termed Ekramul's remarks as arrogance and demanded his removal from Awami League.