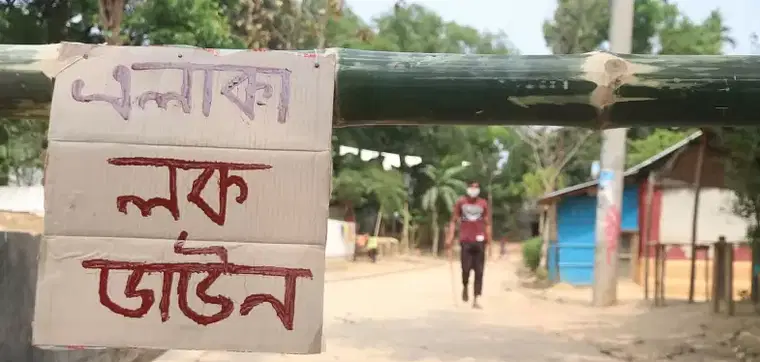 The World Health Organisation (WHO) has called for adopting six steps to combat the novel coronavirus infection but none was followed properly in Bangladesh, records say. The entire government system was supposed to be involved with these steps. Though the health ministry appeared as the centre of discussion, experts put emphasis on increasing the involvement of other ministries, departments and agencies to fight the pandemic.
The World Health Organisation in its interim guidelines on 16 April called for six steps on public health and social issues. These included: controlling infections, keeping service facilities ready with manpower, reducing public gatherings, taking preventive measures in the workplace, health check-ups for people coming and going abroad, and involving the people. WHO also advised not only the health ministry but also the entire government system to be involved in combating the pandemic.
Several public health experts say none of the six tasks were done properly. The effective involvement of several ministries has not been noticed. The decision to lockdown was imposed. People's perception of its benefits was not clear. That's why they did not respond effectively.
WHO says the infection could be controlled in two complementary ways. The first is to identify the suspected patient, examine him, isolate him, treat him, and quarantine the people the patient had come in contact with. The second approach is to take action by identifying the risky areas through observation, survey and pathological tests.
Experts say at least 20,000 tests are needed daily in a country like Bangladesh. Although there are over 60 testing laboratories in the country, 20,000 tests were never done in a day. There are no laboratories in 43 districts of the country. More than 80 per cent of patients stay at home in isolation. No one monitors if those patients were spreading the infection. There are complaints about treatment at hospitals. Drives for contact tracing was stopped for a while. Now it has been resumed but in a limited scale.
The results of any pathological study or survey are yet to be known. The Institute of Epidemiology, Disease Control and Research (IEDCR) has been conducting a nationwide survey with the help of International Centre for Diarrhoeal Disease Research, Bangladesh (icddr, b).
Trained manpower is required to identify suspected patients, to examine them, to provide services to patients in hospitals, contact tracing, to monitor suspected patients and to monitor overall public health. An assessment is needed to see if the hospitals can handle the situation as the number of patients increases. Every health worker should be given training on infection and personal protective equipment (PPE). There needs to be a strong information system to assess the risks, activities and progress of the situation.
There are 110 coronavirus hospitals operating in the country now. The number of beds and ICU beds is less than required. There is a shortage of physicians, nurses and other manpower. There are not enough technologists for testing. Contact tracing is less due to lack of manpower. On the other hand, strong information system is a far cry.
Reducing public gatherings
WHO says physical distancing must be maintained to prevent infection at home and in the hospital. Crowds in cinema or theatre halls, hotels, nightclubs, gyms need to be reduced. Public transports, malls, schools, colleges, universities, mosques, temples, stadiums are the riskiest places.
There is no clear information on whether the patients taking treatment at home are maintaining social distancing properly. Experts believe that closing offices, public transports, mosques and educational institutions have played a positive role. Better results could have been obtained if the measures had been strictly implemented.
Prevention in the workplace
The World Health Organisation has said that keeping a certain distance in the workplace, washing hands and following hygiene rules should be encouraged. To reduce gatherings, work from home or work shifts should be considered as an alternative. Although the government shut down all industries in the beginning, all the garment factories were opened, along with other factories from 26 April.
WHO has also instructed to check the health of passengers traveling to and from international ports and quarantine suspected patients. For this, the port officials need to have training and skills.
There was a shortage of medical equipment in the ports and there were allegations of corruption from the very beginning. In the last 24 hours, 1,152 people have entered Bangladesh through international land, air and sea ports. But there are doubts placing them in quarantine.
A member of Public Health Advisory Committee of DGHS told Prothom Alo that two of his relatives had recently returned from abroad. No one monitored if they were in quarantine at home, he added.
The World Health Organisation says public involvement is needed in all areas of life, from testing to isolation. People need to be informed and consulted regularly about public health and social systems schedules. People also likely to be confused as an information epidemic (infodemic) also occurs during any health pandemic. People can make the right decision if they are provided the right information.
Several experts and public health professionals, including the general public, are losing trusts on government information. There is no evidence that the government has taken any initiative to deal with the pandemic through consulting the common people.
Speaking to Prothom Alo, the prime minister's personal physician professor ABM Abdullah said, home, foreign, local government, information, disaster management and other ministries have roles to play in combating the pandemic. It would be easier to control the infection if everyone takes initiative. People have to be provided with the right information to get them involved in any task.
* The report, originally published in the print edition of Prothom Alo, has been rewritten in English by Farjana Liakat