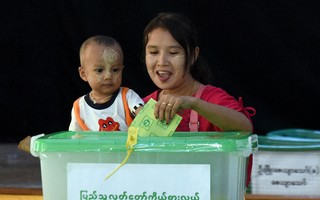 A huge turnout has marked Myanmar's first free nationwide election in 25 years with no reports of violence so far.
(Myanmar poll officials anticipate the turnout to be around 80 percent, agencies say.)
This was the Southeast Asian nation's biggest stride yet towards democracy.
Though no exit polls have been reported, Aung San Suu Kyi's National League for Democracy (NLD) is expected to win the largest share of votes cast by an electorate of about 30 million.
But whether her party gets the huge majority it got in 1990 polls is somewhat in doubt due to some ethnic parties expecting to do well in minority regions.
Suu Kyi cannot contest for president or vice-president because she is barred by Article 59(f) of the 2008 constitution to contest as she was married to a foreigner.
The fact that her late husband Michael Aris, a British professor, is dead, does not help.
The election on Sunday started at 6am and ended at 4pm amid tight security.
As counting began across the country after polling, international observers indicated that voting was mostly trouble-free and there were only isolated reports of irregularities.
(But concerns remain during movement of ballot boxes to counting centres, agencies reported.)
The Union Election Commission said results are expected from midnight. But officials said that a clear overall picture was not expected to emerge until Tuesday morning.
Though 91 parties joined the national election, locals say that the main battle would be between Suu Kyi's NLD and the ruling military-backed Union Solidarity and Development Party (USDP).
Some religion-driven parties are also likely to chip in with a few seats as Buddhist radical groups like Ma Ba Tha drive up the temperature over 'threats from Muslims'.
Source: bdnews24