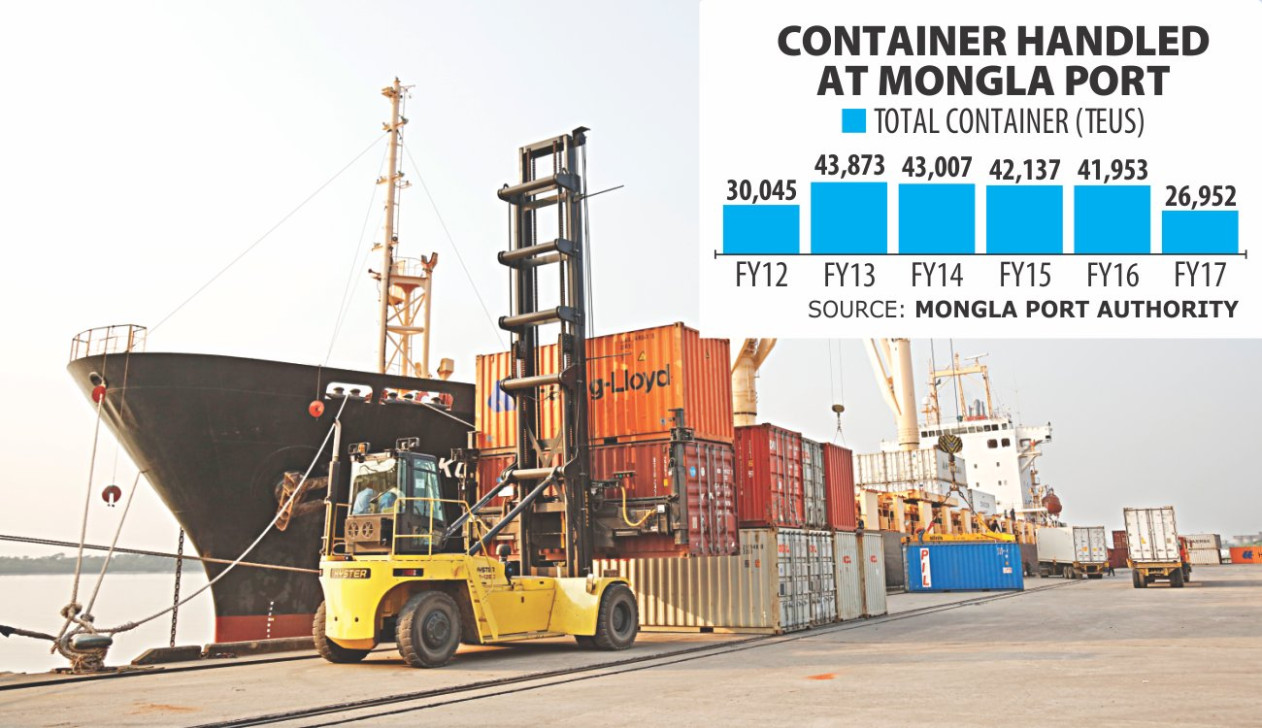 With the Chittagong port grappling with huge vessel congestion, the country's second sea port in Mongla remains underutilised mainly because of inadequate facilities and low draft, said stakeholders.
The port at the southwest coastal belt has the capacity to handle 70,000 TEUs (twenty foot equivalent units) of containers a year.
It handled 26,952 TEUs containers in fiscal 2016-17, down 36 percent year-on-year, according to data from the Mongla Port Authority.
And despite the recent rise in congestion at the Chittagong port, businesses are not diverting their containers and cargo to Mongla, where the turnaround time for ships is 2.2 days — half of Chittagong port.
About 92 percent of Bangladesh's seaborne trade is done through the Chittagong port. "We do not see any rise in ships. Things are going as usual," said Mohammad Golam Mostofa, acting chairman of Mongla Port Authority, on Aug 1.
Port users blamed the low draft in the channel for the port's failure to realise its full potential. The draft determines the minimum depth of water a ship or boat can safely navigate.
Experts on several occasions in the past said the seaport in Mongla can play a pivotal role in facilitating overseas trade in the southwest part of the nation as well as the landlocked countries such as Nepal and Bhutan.
A more vibrant port would also help tackle the emerging regional inequality within the country, and facilitate increased international trade, they added.
At present, the Pashur river has 7-8 metres of draft. But 8.5-9.5 metres draft depth is needed for relatively bigger container vessels to anchor at the jetty, according to port users.
"This is the reason why Mongla port does not see a rising flow of container ships," said Ahsanul Huq Chowdhury, chairman of the Bangladesh Shipping Agents' Association, adding that the channel's draft is 6-7 metres.
"Ships cannot be diverted if there is a dearth of draft," he said.
Placed at the confluence of Passur and Mongla rivers, the port, which accounts for 8 percent of maritime trade, handled only 37 container ships in fiscal 2016-17, down from 46 such vessels a year earlier.
However, the number of cargo ships rose last fiscal year from a year earlier.
The Mongla port, which sits about 71 nautical miles (132 kilometres) upstream from the Bay of Bengal, handled 75.13 lakh tonnes of cargo in fiscal 2016-17, up 30 percent year-on-year. Most of them are import cargo and clinker.
The port can handle one crore tonnes (10 million tonnes) of cargo a year, said Mostafa Kamal, director of traffic at Mongla port, adding that 55 percent of the port's capacity was in use.
Some port officials and users said initiatives were taken in the past to make the port more attractive to users.
However, those did not bring higher freight due to shortage of ships and containers for shipment and increased hours needed to transport goods between Mongla and Dhaka, said officials.
Asif A Chowdhury, director of Bangladesh Freight Forwarders Association, said shipment from the Mongla is low.
"There is also a question of whether importers will use the port. Most of the importers open letters of credit to clear goods from Chittagong."
To make Mongla attractive, the draft has to be increased.
"Dredging is a continuous process — there should be regular dredging. The river bed will become silted if you pause for a month," he said, while also calling for adequate equipment and facility at the port.
A senior official of the Mongla Port Authority said the government should allocate funds for dredging to ensure 10-metre draft to the jetty.
"Uninterrupted dredging can allow us to achieve that depth of the channel," he said, adding that dredging in the channel was stopped in November 2014.
Drastic support from the government is necessary to ensure increased use of the port, said Faruque Hassan, vice-president of Bangladesh Garment Manufacturers and Exporters Association.
"This is high time the government took steps to encourage increased use of the port."
Hassan went on to suggest that the government should give massive incentives to businesses and assurances of speedy clearance of goods to shipping lines.
Source: The Daily Star