By KAI FRIESE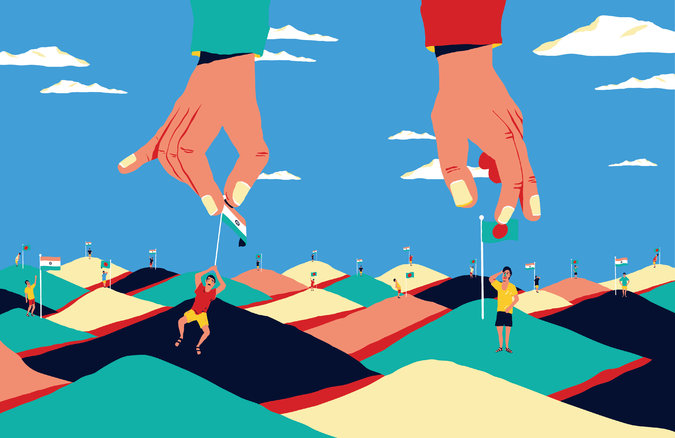 It is June 6, a hot afternoon deep in Bengal's lush farmlands, and people seem to blur before my eyes. There's a humid haze, but the ground also is shifting beneath our feet. The fields around us are thick with ripening stalks of jute and paddy; the rice dangles in tassels of plump beads. Crops that were sown in Bangladesh will be harvested in India. The peasants who will harvest them are changing nationality even as we speak.
I'm in Falnapur #2, one of the 51 "chhitmahals," or enclaves of Bangladeshi territory nestled in West Bengal in India. The word "chhit" means flecks or dots in Bengali, and, as in English, has connotations of dotty eccentricity. "Mahals" means lands or estates, so "the dotty lands" is a reasonable translation for "chhitmahals," or "chhits," the more common shorthand.
Some 400 kilometers away, in Dhaka, Prime Minister Narendra Modi of India and his Bangladeshi counterpart, Sheikh Hasina, are signing a land agreement that will transfer to India sovereignty over Falnapur and another 50 Bangladeshi chhits and to Bangladesh sovereignty over 111 Indian chhits. The ceremony signals the beginning of the end of a remarkable territorial anomaly that has long scarred the maps of the subcontinent and the lives of tens of thousands of people.
The village elders I'm huddled with, some Muslim, some Hindu, know something momentous is happening, but are unsure what it will mean for them. "Since the Partition of India in 1947 we've lived without any government — Pakistani, Bangladeshi or Indian," said Bijendranath Barman, the village head. "It's great that we'll get legal identity cards now, but what we really want is to keep our own soil."
More than 50,000 people have been marooned by the tides of history and bureaucracy in these landlocked archipelagoes. The chhits that belong to the Rangpur Division (Bangladesh) are enclosed by Indian territory, and the chhits of Cooch Behar (India) are enclosed by Bangladeshi territory. Some chhits are embedded in other chhits; those are called "counter-enclaves." One of them — Dahala Khagrabari # 1/51 — is a celebrated cartographic curiosity: the world's only counter-counter-enclave. A chhit within a chhit within a chhit.
The chhitmahals have never figured in the iconic shapes that school children in India learn to identify as their country. They are mythical territory, and even their origins are shrouded in legend. One popular story says these patches of land were traded as forfeits and gambling losses by generation after generation of the maharajas of Cooch Behar and the faujdars of Rangpur. The historical record is slightly less colorful, describing a convoluted series of land transactions that began in 1575, after the Mughals invaded part of Rangpur.
The chhits were scarcely a curiosity in colonial India, since the British humored hundreds of princely states within the Empire. They became an international conundrum with Independence and Partition: The problem could not be resolved at the time because Cooch Behar did not join India until later, and it was repeatedly deferred because it seemed insignificant compared with the complex politics of the new nations of South Asia. Stories within stories within stories.
Life in the enclaves has been no fantasy island idyll — it is part statelessness, part incarceration, part exile. Deprived of IDs, access to any legal system, civic rights and state services, and always at risk of arrest under the Foreigners Act if they strayed too far into India, the residents of the Bangladeshi chhits had to be imaginative. Find an Indian who shares your name, pay someone in India willing to masquerade as your parent or bribe an official to get fraudulent papers of some sort: a voter's card, a bank account, a ration card for rice, sugar or kerosene.
In Delhi and in India's national media, the Dhaka summit is being cast as a foreign-policy masterstroke, and another benefit of the Modi factor. In fact, it builds on a 2011 agreement negotiated by the previous Congress-led administration that Mr. Modi's Bharatiya Janata Party, then in the opposition, blocked in Parliament in 2013.
Now that the B.J.P. is in power, it has reversed its stance. Mr. Modi's motives may include a desire to complete the 3,400-kilometer barbed wire fence India is building around Bangladesh, a project held up by a clutch of border disputes that now have been settled, along with the chhit deal. During the election campaign last year, Mr. Modi denounced the influx of Bangladeshi Muslim migrants and the substantial trade in Indian cattle being smuggled to Bangladesh.
Thanks to its reputation as a hyper-nationalist party, the B.J.P. is better placed to ride out the very same patriotic objections it once raised against swapping the enclaves, namely the net loss of national soil — India is giving up some 10,000 acres more than it will gain — and the fact that the largest chhit in India will remain in Bangladeshi hands.
But in the district of Cooch Behar, the deal has provoked some anger, notably from Ananta Ray, the self-proclaimed maharaja of Cooch Behar who heads the Greater Cooch Behar People's Association and is calling for the creation of a new Cooch Behar province in India.
Mr. Ray is incensed that the Indian government has surrendered to Bangladesh the lands and citizens of this imagined state. "This government is no better than the Mughals," he told me.
The evening of the Dhaka summit, back in the world of electricity, piped water and cable TV in my hotel room in Cooch Behar town, I watched effervescent coverage of the accord. I was disconcerted to hear the anchor claim, "We are receiving pictures of celebrations in the enclaves." Over the previous two days I had spent touring enclaves, I had encountered only mixed feelings.
Later that night in the hotel lobby I met Diptiman Sengupta, the chief coordinator of the Bharat Bangladesh Enclave Exchange Coordination Committee, an NGO. He dismissed fears that refugees from the now-former Indian enclaves in Bangladesh would come flooding in. "Only 149 families, 743 heads, will leave the chhits in Bangladesh for India," he said.
The farmers I met had little faith in statistics. "The last survey conducted here was in 1910," Mr. Barman told me. "You mean 2010?" I asked. According to the swap deal, government officials had completed a joint head count of the chhitmahals in 2011. "They never came here," Mr. Barman said. Pulling a battered parchment from a plastic bag and unfolding it, he said, "This is the only proof of our existence."
"We are sitting right here," he said, pointing at a smudge on the moth-eaten document. It was a land record map detailing every field in the chhit. Dated 1911.
Everywhere I went people produced ancient yellowed documents from the early 20th century bearing various crests, seals and stamps. They were worried that their lands were now being swapped with little effort by Bangladesh or India to document their identities or property rights. With good reason. Even Mr. Sengupta acknowledged that most of India's records of the enclaves were destroyed when a storeroom in Cooch Behar burned down in 1974.
Since land in the chhits was cheap and unprotected by law (sales could not be registered), over the years large tracts have fallen into the possession of outsiders. In Falnapur I found an Indian government servant who had established a small 10-acre tea garden. The former Bangladeshi Prime Minister Khaleda Zia is said to have owned more than 40 hectares in the Indian enclave of Debidoba.
The chhitmahals will linger on Google maps a bit longer: It is only at midnight on July 31 that India's and Bangladesh's enclaves formally "shall stand transferred to the other." In the meantime, many of their residents await some formal documentation of their lands and their own existence from the overburdened and venal bureaucracies of their new nations.
In Bara Gharia, a border village not far from Falnapur, I met Biseswar Burman, technically an Indian but undocumented, and now a refugee from the Indian chhit of Banskata #115 in Bangladesh. A graying, middle-aged man who trained as a homeopathic physician, Mr. Burman believes there is no place for him in Bangladesh, and given that nation's sorry record of communal violence against Hindus, he may have a point.
"We didn't stick it out in the chhit for 67 years just to become Bangladeshi," he said, clutching papers from another country and another time. He was planning to join the Greater Cooch Behar People's Association. After all, he said, "according to my documents, I am still a subject of the maharaja of Cooch Behar."
Source: NYTimes