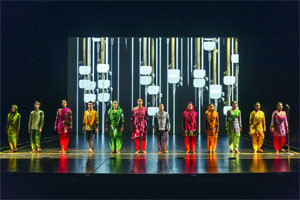 German-Bangladeshi dance production "Made in Bangladesh" by German director Helena Waldmann is finally scheduled to be presented in Dhaka at the invitation of The  Goethe-Institut Bangladesh in cooperation with Shadhona – A Center for the Advancement of Southasian Culture.
On 26 January, 2015, two shows will be held at the National Theatre of Bangladesh Shilpakala Academy. The first show will start at 2 PM, the second at 7 PM. Both are free of entry on first come, first served basis.
Shirin Sharmin Chaudhury, Speaker of JatiyoSangshad, graces the evening show as Chief Guest. Asaduzzaman Noor, Minister of Cultural Affairs, and Dr. Ferdinand von Weyhe, Chargé d'Affaires, German Embassy Dhaka, are present as Guests of Honor, while Ranjit Kumar Biswas, Secretary, Ministry of Cultural Affairs, attends the performance as Special Guest.
After successfully touring Germany, Luxembourg, Switzerland and India, the organizers promised an unforgettable cultural experience, unheard of in Bangladesh till now.

"Made in Bangladesh" explores the notorious sweat shops of the garment industry and the supposedly legitimate artistic "sweat shop" of a dance studio – and comes to the conclusion that they have more in common than the cultural establishment would like to admit. Both, dancers and seamstresses, work at the expense of their health, fobbed off with low wages and at constant risk of losing their jobs to someone even younger, even more flexible. And still both urgently ask not to boycott their products…
Waldmann and her Kolkata based co-choreographer Vikram Iyengar use the complicated staccato dynamics of Kathak as a relentless choreographic reflection of piecework sewing. The choreography with twelve dancers from Bangladesh is thereby interspersed with multimedia extension in the form of video clips and sound collages.
After the premiere of "Made in Bangladesh" in the German city of Ludwigshafen in November 2014 and the following Europe tour, the ensemble most recently toured India with the support of Goethe-Institut, participating also in two renowned dance festivals.
The two shows in Dhaka now are like a homecoming for cast and crew. Not only are the twelve dancers based in Dhaka, the majority of the production was also produced in the Bangladeshi capital. Extensive rehearsal periods took place there for almost one year. In addition, the topic of the production is nowhere more prevailing than in Bangladesh.
However, due to copy rights issue and also ensuring quality of the event, no photography and  no video recording would be allowed inside the auditorium during the shows.
Comment
---
Turongomi's Waterness presents life on stage at Shilpakala

Cultural Correspondent
"Waterness", the first ever Dance Theatre in Bangladesh was staged on Wednesday evening at Bangladesh Shilpokola Academy.
"Waterness: Jolebash", is a joint Indo-Bangladesh collaborative bilingual dance production featuring the metaphor of the fluid essence of womanhood and the liquidity of water.
According to Pooja Sengupta , Artistic Director of the Theatre, Waterness with a unique blend of Dance and theatre aims to find resemblance between woman and water; inspired by the life of Rabindranath Tagore and dedicated to Kadombori Devi.
The production is bilingual – in Bengali and English with a duration of 45min. The perfection in choreography by the team in tune with Tagore's songs set with the theme made the show more brilliant and kept the audience spellbound.
Produced by Turongomi Repertory Dance Theatre , Waterness is a different art form and hence it is requested not to confuse it with Dance Drama.
Dance Theater is distinctive genre of dance which aims to break down the barriers between dance, theater, mime, and most of all, to communicate ideas and feelings without any pretentions. One of its most effective tools is honesty and openness.
To Pooja. "Dance is a rhythmic expression of emotions. From the flow of a fountain and the tossing of leaves to the throwing hand gesture of a newborn—all connote the language of dance,"
Pooja Sengupta began learning Bharatnatyam in 1989 under the tutelage of noted dancer Shukla Sarkar. Pooja performed her Arengatram (convocation) in 2000. However, she continued taking lessons from her guru till 2011.
Born in a culture-oriented family, Pooja went to dance school in her childhood. Her parents, noted actor Manoj Sengupta and Nandita Sarkar keenly supported her all the way.
"My mother was a singer, though she did not take music as her career. She had perceptions of my creative faculty and she offered me a choice of music, dance, painting and acting as my co-curricular activities in my childhood. I chose dance as I loved it and would dance from one room to another," says the artiste.
Besides dance, Pooja completed BS (Honours) and MS in Physics from Dhaka University. But her passion for dance surpasses all. "It is my passion for dance that helped me become the first Bangladeshi student to receive an ICCR scholarship to study Bharatanatyam at Masters Level at Rabindra Bharati University without Honours in the dance form," said the artiste.
She has presented her arts at many prestigious platforms both at home and abroad.
Source: Weekly Holiday