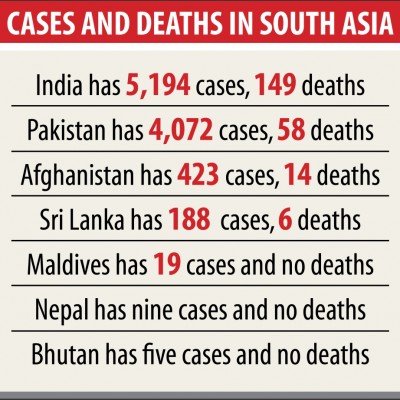 India is considering plans to seal off coronavirus hotspots in Delhi, Mumbai and parts of the south while easing restrictions elsewhere as a way out of a three-week lockdown that has caused deep economic distress, officials said yesterday.
The sweeping clampdown in the country of 1.3 billion people to prevent an epidemic of COVID-19, the respiratory disease caused by the virus, ends on April 14 and Prime Minister Narendra Modi is to decide this week whether to extend it.
In a video meeting with leaders of all parties, Modi reportedly said he would consult with Chief Ministers of states but by all accounts the lifting of the lockdown "is not possible".
"The priority of the government is to save each and every life. The situation in the country is akin to a 'social emergency', it has necessitated tough decisions and we must continue to remain vigilant," said the PM.
Life will not be the same again after COVID-19, the Prime Minister said, adding that there would be "pre-corona and post-corona" for times to come.
But it was unlikely that schools, colleges, rail travel and religious gatherings would be allowed anywhere in the country, the official said.
Scenes of poor migrant workers and their families walking long distances on empty highways to their homes in the countryside after losing their jobs have increased pressure on Modi to reopen parts of Asia's third largest economy.
More than 80% of confirmed COVID-19 cases in India, also the world's second most populous country, have been traced to 62 districts representing less than 10% of India's landmass, according to government data.
These are concentrated in the western state of Maharashtra, home to financial capital Mumbai, the capital Delhi and the southern states of Tamil Nadu, Telangana and Kerala.
Many parts of the country have not reported a single case.
Such a skewed geographical spread strengthens the case for a more targeted approach under which the affected area and its neighbouring district would be cordoned off, health officials said.
The government of Uttar Pradesh, India's most populous state, said 15 districts which had each recorded six or more cases of COVID-19 would be cordoned off beginning Wednesday night as it steps up the fight to stem the infections.
So far, India has registered 5,194 COVID-19 infections of whom 149 have died, government data showed on Wednesday. However, health experts say India needs to ramp up testing for infections to help ensure it has a grasp on how widespread the coronavirus is, and that a lockdown alone is no solution.
Meanwhile, UN's labour body the International Labour Organization (ILO) yesterday warned that about 400 million people working in the informal economy in India are at risk of falling deeper into poverty due to the coronavirus crisis.
Source: The Daily Star